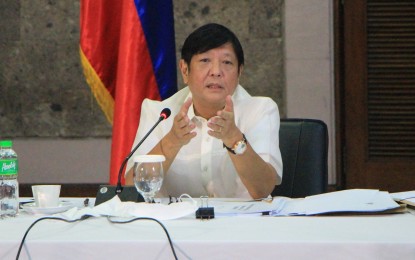 MANILA – The Armed Forces of the Philippines (AFP) on Thursday assured President Ferdinand "Bongbong" Marcos Jr. that it has available air assets that could be used for airlift operations to reach isolated areas affected by the magnitude 7 earthquake that hit Northern Luzon on Wednesday.
During a situation briefing in Bangued, Abra, Marcos instructed government agencies to ensure quake survivors get the necessary post-disaster assistance such as food, potable water and other support.
He also wanted immediate repair of roads and bridges, as well as restoration of water supply and telco services.
Marcos has tasked personnel to conduct a quick assessment of structures so that people could go back to their homes.
Lt. Gen. Ernesto Torres Jr., the commander of the Northern Luzon Command (NOLCOM), told the President during the briefing that the AFP general headquarters allocated 10 aircraft for post-disaster response in the Ilocos, Cagayan Valley and Cordillera regions.
Two choppers, he said, are already in Abra, ready to conduct sorties.
The AFP has also deployed more than 100 personnel who could support search and rescue efforts, he said, adding that 500 additional personnel are on standby.
The Department of Social Welfare and Development (DSWD) said it allotted PHP5 million for Abra to be given to those who suffered injuries and whose houses were destroyed or partially damaged by the earthquake.
The DSWD said an additional PHP5 million would soon be released to the province, which bore the brunt of the quake's devastation.
Department of National Defense (DND) officer-in-charge Undersecretary Jose Faustino Jr. said a total of 4,969 families or 20,000 individuals were affected in 110 barangays in the Ilocos Region and Cordillera Administrative Region.
Some 2,312 families in the two regions are housed in evacuation centers, while a total of 413 families sought refuge with their relatives, with others putting up tents near their houses. (PND)