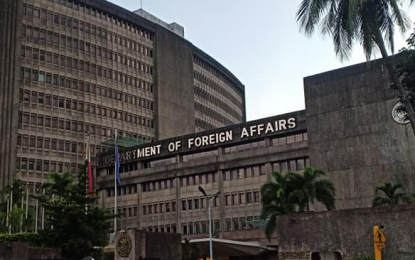 MANILA – The Department of Foreign Affairs (DFA) is coordinating with relevant offices regarding the International Criminal Court's (ICC) move to resume the probe into former President Rodrigo Duterte's drug war.
"The DFA serves as a conduit of information from the ICC from our embassy in The Hague," DFA spokesperson Ma. Teresita Daza said in a press conference on Thursday.
"In view of the government transition, the DFA is in the process of coordinating with agencies, such as the DOJ (Department of Justice) and the OSG (Office of the Solicitor General) on this matter," she added.
Daza said they are aware of the ICC Pre-Trial Chamber asking the country to provide observations following the probe request, but the agency would still have to wait for guidance.
The statement came a day after ranking officials, including Foreign Affairs Secretary Enrique Manalo, met with President Ferdinand Marcos Jr. and lawyer Harry Roque to discuss the ICC situation. No information, on the other hand, has been released yet regarding the decisions made as of this posting.
The ICC in September 2021 began its probe into the Philippines' situation covering the campaign against illegal drugs from November 2011 to March 16, 2019.
Investigations were then suspended in November 2021 after Manila requested a deferral, since local authorities were investigating alleged deaths and abuses during the anti-illegal drugs campaign.
On June 24, 2022, ICC Prosecutor Karim Khan said the deferral request is "not warranted" and asked the ICC's Pre-Trial Chamber to reopen the investigations.
The Pre-Trial Chamber, after less than a month, said it considers it "appropriate to invite the Philippines to submit any additional observations" based on Khan's request by Sept. 8, 2022, at the latest.
'No longer a state party'
Daza, meanwhile, deferred when asked if Manila under the Marcos administration has a plan to rejoin the ICC.
"We actually are no longer a state party to the Rome Statute and this has been affirmed by the Supreme Court in the case of Pangilinan and Cayetano effective 17 March 2019. At this point in time, and as I said, since we're at a period of transition, with this we will have to seek guidance," she said.
Daza assured that the Philippine government is "committed to fighting impunity, atrocities, or crimes, notwithstanding the country's withdrawal from the Rome Statute."
"The Philippines underscores that it has the primary jurisdiction to investigate and prosecute crime against humanity allegedly being committed in the context of an anti-illegal drugs campaign," she said.
"As a court of last resort, the ICC complements but does not replace national courts. It only operates in cases where national jurisdictions are unable or unwilling to prosecute," she added. (PNA)