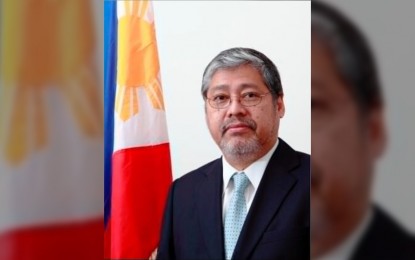 MANILA — Foreign Affairs Secretary Enrique Manalo has filled five undersecretary positions at the Department of Foreign Affairs (DFA) with career diplomats.
In a statement Thursday, the agency hailed the creation of what it described as an "all-career lineup of undersecretaries".
Veteran diplomat Ma. Theresa Lazaro will serve as the acting Undersecretary for Bilateral Relations and Asean Affairs.
Her career in the foreign service has focused on crafting Philippine foreign policy, having served multiple times at the Office of Asian and Pacific Affairs, including as its Assistant Secretary, said the DFA.
She also served as Ambassador to Paris and Permanent Delegate to UNESCO -- her most recent foreign posting -- as well as Ambassador to Switzerland, Consul General to Sydney, and Deputy Consul General to New York.
Former Philippine Ambassador to Singapore Antonio Morales, meanwhile, was designated as acting Undersecretary for Administration.
He had also held office in Milan and Hong Kong as consul general to Milan and Hong Kong.
While at DFA, he was assigned at the Human Resources Management Office, the Office of Undersecretary for Special and Ocean Concerns, the Office of the Undersecretary for Policy and the Office of European Affairs.
He has been Acting Undersecretary for Administration since early 2021.
The DFA said former Philippine Ambassador to Russia Carlos Sorreta will be the acting Undersecretary for Multilateral Affairs and International Economic Relations.
Prior to his posting in Russia, he previously served as Deputy Permanent Representative at the Philippine Permanent Mission to the UN in New York, and Deputy Chief of Mission at the Philippine Embassy in Washington.
His experience at the home office includes serving as Special Assistant for Policy to various Secretaries of Foreign Affairs, and as Special Assistant for Foreign Affairs of President Gloria Macapagal Arroyo.
He is also a recipient of the Presidential Order of Mabini, with the rank of Dakilang Kasugo.
Former Philippine Ambassador to New Zealand Jesus Domingo, on the other hand, will serve as acting Undersecretary for Civilian Security and Consular Affairs.
He served as the Assistant Secretary for UN Affairs and other International Organizations when he was at the DFA.
He also represented the Philippines in the UN Security Council, UN General Assembly, Conference on Disarmament (CD), and UN Disarmament, Non-Proliferation and Humanitarian Conventions when he was at the Philippine Mission to the UN in New York and Geneva.
He likewise served as Assistance to Nationals (ATN) head at the Philippine Embassy in Riyadh, Saudi Arabia.
Lastly, the DFA-Migrant Workers Affairs Office will be headed by acting Undersecretary Eduardo de Vega, who was the Philippine Ambassador to the Kingdom of Belgium, the Grand Duchy of Luxembourg, and the European Union from 2018 to 2022.
He also served as Ambassador to Mexico, Belize, Costa Rica, El Salvador, Guatemala, Honduras, Nicaragua, Panama, Cuba and Dominican Republic from 2016 to 2018.
"The all-career lineup of senior management at the DFA demonstrates the Department's commitment to providing professional advice to the President as the Chief Architect of Foreign Policy," the DFA said. (PNA)