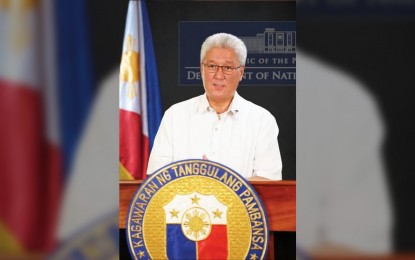 MANILA – The steel cutting for the two corvettes to be acquired from South Korean shipbuilder Hyundai Heavy Industries (HHI), is expected to begin by the fourth quarter of this year.
Department of National Defense (DND) spokesperson Arsenio Andolong confirmed this when sought for an update on the Philippine Navy (PN)'s Corvette Acquisition Program (CAP).
"(HHI) completed the preliminary design review (PDR) for the corvettes last week. It will be subjected to a TIAC (Technical Inspection and Acceptance Committee). Once the PDR is approved by the TIAC, HHI will then proceed to do CDR (Critical Design Review)," he added in a message Thursday night.
Andolong said the steel cutting will begin once the CDR is reviewed and approved by the TIAC.
The CDR is considered the "shipbuilder's bible" while the ships are being built.
"Only when the CDR is approved by the TIAC will steel cutting begin. This will start by the fourth quarter or around November," Andolong said.
Steel cutting officially starts the construction of any ship.
The DND signed a PHP28-billion contract with HHI for the acquisition of two brand-new corvettes for the PN, which are capable of anti-ship, anti-submarine and anti-air warfare missions, last December 27.
Former defense secretary Delfin Lorenzana earlier announced that the agency was able to meet its target of having the PN Corvette Lot 1 Acquisition Project contract signed before the end of 2021 despite the delays caused by the coronavirus disease 2019 (Covid-19) pandemic.
Lorenzana said acquiring the two corvettes from HHI, where the two Jose Rizal-class guided-missile frigates were also built, will ensure commonality and interoperability.
The Special Allotment Release Order for the 15 percent advance payment for the PN's CAP, which is worth PHP3.75 billion, was released by the Department of Budget and Management on Dec. 10, 2021. (PNA)