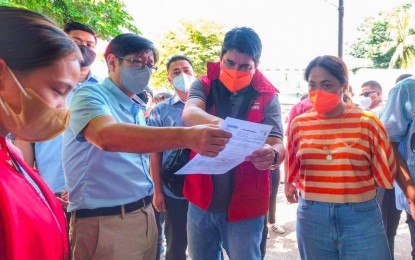 MANILA – President Ferdinand "Bongbong" Marcos Jr. on Thursday instructed the Department of Public Works and Highways (DPWH) to prioritize the inspection of hospitals and health care facilities in Abra following the magnitude 7 earthquake that jolted the province.
"Do the inspections first of the public buildings. I think your priority will be quite right is the hospital, uunahin natin even before the government buildings, 'yung mga offices, 'yung mga ganoon. Unahin natin 'yung ospital," he said during a situation briefing in Abra.
In his visit to the province, the chief executive personally checked the condition of the Abra Provincial Hospital and its patients.
"Let's go first to the hospital, let's go first to the clinics, the health care centers… then we can then go look at the government buildings after which we can, puntahan na rin natin 'yung mga bahay ng mga tao para makita kung puwede na talaga sila — safe na sila," he added.
According to the Department of Social Welfare and Development - Cordillera Administrative Region (DSWD-CAR), there are a total of 28 totally damaged houses, while 2,362 were partially damaged.
DSWD-CAR Director Arnel Garcia said the number could still go up as the assessment is still ongoing and authorities have yet to check the outlying barrios.
This developed as provincial officials said evacuation centers were set up in open areas in the province.
Department of Science and Technology Undersecretary and Philippine Institute of Volcanology and Seismology officer-in-charge Renato Solidum Jr. said residents could go back to their homes once inspections show that structures are safe.
Solidum, however, cautioned that aftershocks are expected to continue for several weeks.
"People should be ready how to respond properly during aftershocks kasi malakas pa po ang posibleng aftershock," he said. (PND)