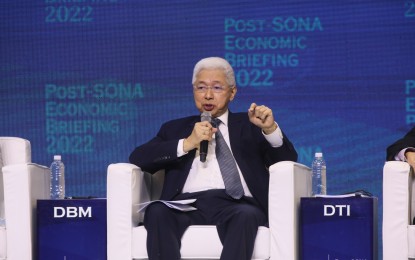 MANILA – Department of Trade and Industry (DTI) Alfredo Pascual said the private sector has a crucial role to play in accelerating the adoption of digital technology in the country.
In an event in Taguig City Thursday, Pascual reiterated that digital transformation is part of the Marcos administration's eight-point economic agenda.
"In his State of the Nation Address this Monday, President Marcos laid out his economic plans for the country, emphasizing the importance of creating an enabling environment for the country's digital transformation," he said.
The DTI chief said the government's digital transformation agenda pushes for digital payments, digital financial services, and enabling market regulations to build trust and data transfer to provide more opportunities for individuals and micro, small and medium enterprises (MSMEs).
"I believe the government will not be able to achieve its digital transformation goals on its own. The private sector, with its agile mindset and disposition has to play a key role, particularly in implementing the digital transformation of enterprises, both large and small as well as government itself," Pascual said.
He added the private sector will set the direction and pace of digital transformation in the country.
On the other hand, Pascual said the government has issued policies to encourage and enable investments in digital technology, which include Executive Order 170 s. 2022, or the Adoption of Digital Payments for Government Disbursements and Collections and Commission on Audit Circular No. 2021-014, or the Guidelines on the Use of e-Collection and e-Payment for Government Transactions.
"Collaboration between industry and government is effective in promoting priority initiatives. We have accomplished much through our collaborations, and the successful outcome speaks for itself," he said.
Pascual also enjoined the private sector to support the Bangko Sentral ng Pilipinas' Digital Payment Transformation Roadmap 2020-2023, with a goal of increasing digital payments to 50 percent and 70 percent financial inclusion for all Filipino adults. (PNA)