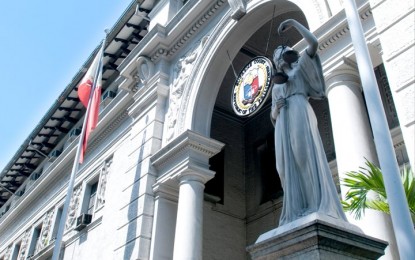 MANILA – The Supreme Court on Monday adopted further measures to mitigate the continuing impact of the Covid-19 pandemic, including a temporary stop on the weekly flag-raising ceremony in Manila.
"It was put on hold as a precaution to the recent spike in Covid-19 infections," SC spokesperson Brian Keith Hosaka told the Philippine News Agency on Monday.
Among the courts temporarily shut down were the Calamba City, Laguna Regional Trial Court (RTC) Branch 35 from July 28 to August 3; Imus, Cavite Metropolitan Trial Court in Cities (MTCCs) Office of the Clerk of Court and Branches 1 and 2 from July 26 to August 1; Municipal Circuit Trial Court Branch 5 of Don Carlos-Kitaotao-Dangcagan in Bukidnon from July 29 to August 2; Tarlac City RTC Branch 110 from July 29 to August 4; Lucena City RTC Branch 55 from July 28 to August 3; and Baguio City Family Court Branch 2 from July 29 to August 4.
The National Capital Region (NCR) remains under the most lenient Alert Level 1 classification but is classified as moderate risk for Covid-19, according to Undersecretary for Public Health Services Team Beverly Ho last week.
She said the NCR has the highest daily moving average with almost 1,100 cases per day.
The Department of Health (DOH) reported 4,127 new cases of Covid-19 on Friday that brought the total active infections to 32,637.
The DOH likewise recorded 890 additional cases of the Omicron BA.5 subvariant of Covid-19 on July 28, but 823 of them have recovered.
To date, the country has logged a total of 1,997 BA.5 cases, 71 BA.4 cases, and 154 BA.2.12.1 cases. (PNA)