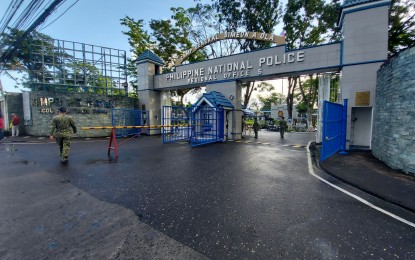 LEGAZPI CITY – The Police Regional Office in Bicol (PRO-5) welcomes the separate and independent investigation to be conducted by the Commission on Human Rights (CHR-Bicol) on the "untimely" death of Patrolman Jaypee de Guzman Ramores.
In an interview on Monday, Maj. Malu Calubaquib, said they are willing to help and shall be accessible on any matters that would hasten the uncovering of truth behind the sudden passing of the lawman.
"We will coordinate with them, all documents they need will be given to them, and as instruction of our Regional Director Brig. Gen. Mario Reyes to expedite the investigation," Calubaquib said.
She said PRO5's Special Investigation Task Group "Ramores" continued its separate investigation on the death last July 26 of the police officer who was assigned to the 503rd Maneuver Company, Regional Mobile Force Battalion (RMFB) 5 in San Jacinto, Masbate.
Based on the post-mortem report issued by Ticao District Hospital last July 28, the causes of death of Ramores were cardiorespiratory arrest, deep vein thrombosis secondary to pulmonary embolism, and multiple physical injuries secondary to blunt trauma.
"(The) Regional Investigation and Detective Management Division and Masbate Provincial Police Office will conduct a separate inquiry on the 503rd Maneuver Company to determine their criminal and administrative liability. The task group members have also started collating information based on the affidavits made by the personnel concerned," she said.
Meanwhile, Col. Roderico Roy Jr., commander of RMFB 5, was relieved from his post and replaced by Lt. Col. Jefferson Araojo.
Reyes during the turnover ceremony on Saturday, reminded all police officers that leadership and authority entail great responsibility and a leader is expected to bring out the best in his subordinates, to help them become the best versions of themselves.
"If you want to teach camaraderie to a person, never deny him of his future," Reyes said in his message.
Calubaquib said Reyes and other Bicol police personnel visited the wake of Ramores in his hometown in Talisay, Camarines Norte also last Saturday.
"He extended his deepest sympathy and condolences to the bereaved family. Along with it, he assured that the organization is sternly doing its part to unfold the truth and serve justice to the victim," she said. (PNA)