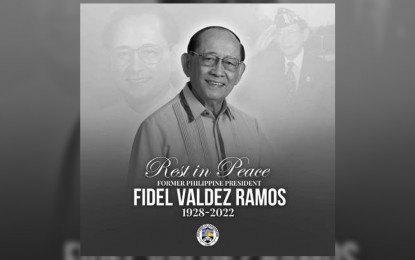 MALASIQUI, Pangasinan – The flags in government offices in the province of Pangasinan were raised at half-mast as its officials and residents are mourning the passing of a fellow-Pangasinense, former President Fidel V. Ramos.
Among those who have expressed their condolences to the family of Ramos and remembered his legacy is former Speaker of the House of Representatives Jose de Venecia Jr. who calls the late president as a "great Pangasinense and Filipino".
"A hero of the Edsa People Power Revolution and veteran of the Vietnam and Korean wars, former President Ramos served our country with great distinction, as a decorated military officer who eventually became Chief of Staff of the Armed Forces, Secretary of National Defense, and President of the Philippines," de Venecia said in a statement Monday.
He said Ramos was best remembered for his peace initiatives, socio- political reforms, economic modernization, people empowerment, and global competitiveness, among many other accomplishments.
"Even after his presidency, he continued to serve our country, our Asian region, and the international community in his private capacity, contributing his wisdom, wealth of experience, and political influence in advancing the causes of peace, security, democracy and development," he added.
De Venecia and Ramos, together with the late Senator and Foreign Affairs Secretary Raul Manglapus, founded the Lakas-NUCD-UMDP (National Union of Christian Democrats-United Muslim Democrats of the Philippines), now Lakas-CMD (Christian Muslim Democrats).
Ramos, a former Defense Secretary, was elected President of the Republic in 1992.
"On behalf of my wife, former Pangasinan Representative Gina de Venecia, our son, Pangasinan fourth District Representative Christopher de Venecia, and the de Venecia family, I join the Ramos family, relatives, friends, and the Filipino people in mourning the passing of a great Pangasinense and Filipino, former President Fidel Valdez Ramos," de Venecia said.
Pangasinan Governor Ramon Guico III expressed his condolences to the Ramos family in a Facebook post Monday.
Asingan town Mayor Carlos Lopez Jr. thanked Ramos for his service to the country and the town of Asingan.
President Ferdinand "Bongbong" Marcos Jr. has declared July 31 to Aug. 9, 2022 as national days of mourning for Ramos.
A proclamation to honor Ramos said "the national flag shall be flown at half-mast from sunrise to sunset, on all government buildings and installations throughout the Philippines and abroad, for a period of 10 days." (PNA)