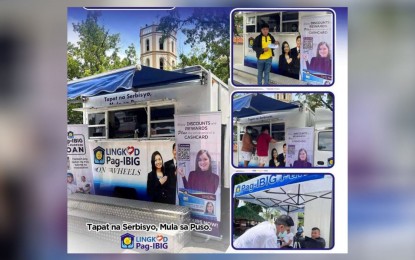 MANILA – The Home Development Mutual Fund (Pag-IBIG Fund) has initially allocated a PHP3-billion calamity loan budget for its members affected by the magnitude 7 earthquake in Northern Luzon.
Department of Human Settlements and Urban Development (DHSUD) Secretary Jose Rizalino Acuzar said in a statement on Monday that members residing in the Ilocos Region, Cagayan Valley, and Cordillera Administrative Region (CAR) may benefit from the calamity loan program.
"We are also working closely with our fellow government agencies, as directed by President Ferdinand Marcos, Jr., so that we can maximize our collective assets toward providing for the needs of our fellow Filipinos affected in these areas," said Acuzar, who also chairs the Pag-IBIG board of trustees.
Eligible members may borrow up to 80 percent of their total Pag-IBIG Savings, which consist of their monthly contributions, the counterpart employer's contributions, and accumulated dividends earned.
In consideration of the recent situation, members are offered 5.95 percent interest rate per annum, which the Fund said is the lowest in the market.
The loan has a three-year payment term, with a grace period of two months. Initial payment is due on the third month after the loan is released.
Qualified borrowers may apply for the calamity loan within 90 days from the date when an area has been declared under a state of calamity.
Acmad Rizaldy Moti, Pag-IBIG Fund chief executive officer, said the agency has already deployed mobile branches, or the Pag-IBIG on Wheels, to quake-hit areas so that beneficiaries can avail of offsite application.
The mobile branches also cater to insurance claims from current housing loan borrowers. whose properties may have been damaged by the tremors.
"In coordination with local government units, we have also set up on-the-ground service desks near evacuation areas and government centers in these regions so that members can easily access us," Moti said in another statement.
The Virtual Pag-IBIG platform will allow quake-affected members to apply for a calamity loan online.
"And, even while our own offices and personnel in earthquake-hit areas have also been affected, our branches are open and ready to receive calamity loan applications and housing loan insurance claims. Our members can be assured that during difficult times, Pag-IBIG will always be there to help them," Moti said.
As of Monday, the DHSUD said 20,533 houses were damaged in the July 27 earthquake that was felt even in Metro Manila. (PNA)