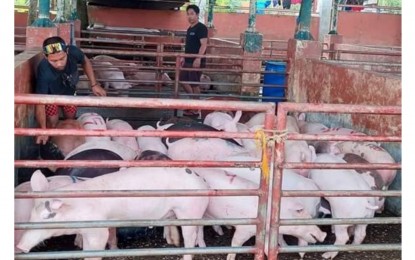 BACOLOD CITY – Negros Occidental province supplies 8,000 to 12,000 heads of swine to other provinces monthly as it remains free of the highly contagious African swine fever (ASF).
As of Tuesday, hog raisers here continue to be suppliers to buyers in Panay, Cebu, and Luzon.
"We have a production surplus when it comes to hogs. That is the advantage of being ASF-free, you can send out your products everywhere," Dr. Placeda Lemana, officer-in-charge of the Provincial Veterinary Office, said over the Provincial Capitol's Radyo Negrense.
There is high demand for Negrense hogs because of their good quality, which can be attributed to the province's genetic improvement program for swine, she added.
Negros Occidental, which has a PHP6-billion swine industry, is the top backyard hog producer in the country.
Lemana said hog raisers in Negros Occidental are grateful to Governor Eugenio Jose Lacson for enforcing the ban on the entry of live pigs and pork products from ASF-affected regions that made the province free of the swine disease.
The Department of Agriculture has identified Negros Occidental as a "green zone" or an ASF-free province, making it one of the most trusted and major suppliers of pigs for slaughter in Luzon and other parts of the country.
Since September 2019, Negros Occidental has prohibited the entry of live pigs, pork, and pork products coming from Luzon, Mindanao, and Eastern Visayas, which all have confirmed cases of the swine disease.
Only three regions in the country – Western Visayas, Central Visayas, and the Bangsamoro Autonomous Region in Muslim Mindanao – are considered ASF-free. (PNA)