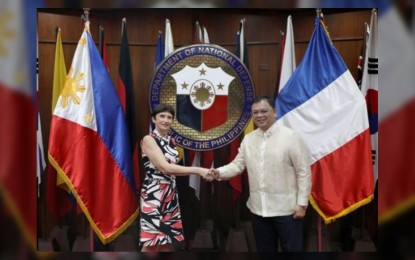 MANILA – The Philippines and France are looking at broadening cooperation in climate change initiatives and defense acquisition, among others.
Department of National Defense (DND) officer-in-charge, Undersecretary Jose Faustino Jr. made this remark in a meeting with French Ambassador to Manila Michèle Boccoz at Camp Aguinaldo, Quezon City on Monday.
Boccoz noted that the 75th anniversary of the establishment of diplomatic relations between the Philippines and France has been observed with a six-month commemoration since June 26.
"Both sides expressed keen interest in broadening the Philippines-France bilateral defense relations by exploring more areas of cooperation, such as addressing climate change, humanitarian assistance and disaster response (HADR), information-sharing, and defense acquisition," DND spokesperson Arsenio Andolong said in a statement Tuesday.
Also present during the meeting were officials from the DND and the French Embassy.
"Senior Undersecretary Faustino Jr. extended the DND's congratulations in connection with the 233rd anniversary of the French National Day last 14 July 2022. The Philippines side also expressed appreciation for the military education and training opportunities offered by France to the Armed Forces of the Philippines (AFP)," Andolong said.
Boccoz said the Indo-Pacific region is a priority for Paris, adding that defense and security is the first pillar of its Indo-Pacific Strategy.
"Both sides recognized the importance of the Asean (Association of Southeast Asian Nations) Centrality and the Asean Outlook in the Indo-Pacific (AOIP). Senior Undersecretary Faustino reaffirmed the Philippines' full support for France's engagement with Asean," Andolong said. (PNA)