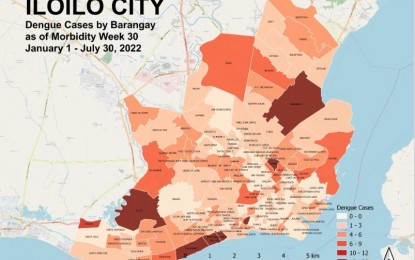 ILOILO CITY – The city government here will go massive in its cleanup and fogging operations as dengue cases have already reached 502 with one death for the January 1 to July 30 period, a 111.8 percent increase compared to the same period last year, that is worrying local health authorities.
Mayor Jerry P. Treñas, in a media interview Tuesday, said three fogging machines will be utilized in schools before the start of classes.
Fogging will also be carried out in barangays with clustering of cases and houses are not congested, while misting will be an option in crowded villages.
"We want to be massive on this. We repeatedly call that all containers that can possibly gather stagnant water will be upturned because the time is not favorable to us," he said.
Data from the City Health Office showed that while dengue is seen among the six months to 75 years old population, the most affected age group is the one to 10.
There are also eight barangays in the city with recorded clustering of cases.
Meantime, the mayor said they are scheduling a virtual meeting with officials of the 180 barangays for a briefing about the monkeypox.
"We will monitor. And we have been talking that when needed, we will have isolation areas where we can put the patients," Treñas said.
The mayor, however, does not entertain the idea of possible lockdown since the thrust is to open up the economy.
"Many has lost jobs, so there is a need to revive the economy. We just need to be careful," he said. (PNA)