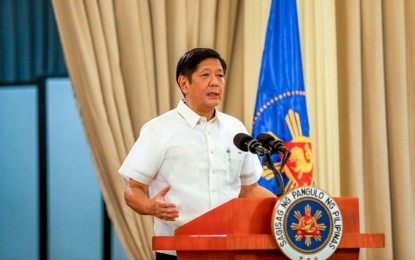 MANILA – President Ferdinand Marcos Jr. is calling on local government officials to prove that they are indeed "the best talent in government" through public service.
He made this statement during his meeting with members of the League of Cities of the Philippines on Tuesday.
"I have always said that some of the best talent in government is in the LGUs (local government units), is in the cities, is in the governors, is in the mayors. Let's keep that truism in our minds and show people that is exactly what is going to happen – that LGUs can lead the way when it comes to changing our country from the bottom up," Marcos said in a video of his speech posted in the official Radio Television Malacañang (RTVM) Facebook page.
He also expressed hope that they would continue being the "driving force" behind the country's economic transformation.
PPP, digitalization
In the same meeting, Marcos enjoined local officials to be open to public-private partnership (PPP) as a mode of financing projects.
"I think this is the way forward, and I encourage all our local government units to be open to the possibilities of PPPs and to have private-public partnerships, especially in your areas," he said.
He said digitalization would play a crucial role in PPP, especially in pushing for economic recovery and the digital transformation in the Philippines.
"Digitalization is going to be a very natural fit for something like PPPs," he added.
Apart from pushing for digitalization, Marcos said his administration would also focus more on infrastructure.
"Marami ring opportunities, especially sa infrastructure. Marami sa ating mga kaibigan na galing sa iba't ibang bansa, lalo na nung nag-courtesy call sa atin 'yung ambassador – marami silang ino-offer na tulong (There are a lot of opportunities, especially in infrastructure. Many of our friends from different countries and when the ambassadors made a courtesy call, they offered help)," he said.
The President mentioned that he had received offers to fund big-ticket projects, including official development assistance (ODA) and joint ventures.
"Local government generally cannot do it by itself. We have to find partners, we have to find local partners, we have to find investors. Sanay na kayo diyan (You are used to it)," he said.
In his first State of the Nation Address on July 25, Marcos bared the government's bid to increase digital connectivity in the Philippines through the so-called "BroadBand ng Masa" project.
He said universal connectivity would be a "vital component" to ensure that no citizen is left behind. (With PND/PNA)