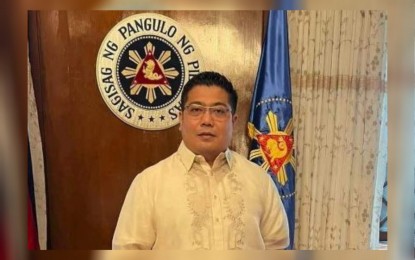 MANILA – President Ferdinand "Bongbong" Marcos Jr. has picked his personal physician, Dr. Samuel Zacate, as director-general of the Food and Drug Administration (FDA), Malacañang announced Wednesday.
Press Secretary Trixie Cruz-Angeles announced Zacate's appointment in a Palace press briefing.
Zacate is a known public health advocate with years of expertise in medicine and medical consultancy in other government units and offices, including the Public Attorney's Office, Presidential Security Group Hospital (2009-2022), among others.
Prior to his appointment, Zacate was a diplomate of the Philippine Society for Venereology and a fellow of the International College of Surgeons.
Cruz-Angeles said the new FDA chief possesses all qualifications to head the agency.
"If you will look at his qualifications he is eminently qualified. As you know, to be the FDA head, you have to at least be a doctor or a pharmacist so he is qualified plus he has several distinctions," she said.
Zacate provided reporters with updates on the health of the President from the time he contracted Covid-19 for a second time in July 8 until his full recovery.
He will be replacing FDA officer-in-charge, Dr. Oscar Gutierrez, who took over the agency after the resignation of Dr. Eric Domingo last January.
OPAMA, JBC appointments
Meanwhile, Marcos named retired BGen. Roman "Popong" Felix as Secretary of the Office of the Presidential Adviser on Military Affairs (OPAMA).
Felix is a retired police general who served in various offices and units of the PNP in regional and national headquarters.
He is a member of the Philippine Military Academy "Matikas" Class of 1983 who is a native of Tuguegarao City in Cagayan Valley Region.
He also served as the Provincial director of the Ilocos Norte Police Provincial Office and later Regional director of Ilocos-Pangasinan or Region 1. He is also a licensed and well-trained helicopter pilot.
Retired Maj. Gen. Ariel Caculitan was picked by Marcos as OPAMA's Undersecretary for Military Affairs.
Caculitan is a top-caliber military official who served his years in various units of the Philippine Marine Corps and Philippine Navy. He is a member of the Philippine Military Academy (PMA) "Makatao" Class of 1989 and a top notcher of the AFP Command and General Staff Course Class 45.
He was the 33rd Commandant of the Philippine Marine Corps (PMC).
Among other military posts he commanded were the Naval Reserve Force Command, Combat and Service Support Brigade, Marine Corps Force Development Center, and Philippine Peacekeeping Contingent to Haiti from 2009 to 2011.
In 2015, he received the "Best Flying Award" as a naval aviator.
He is also an awardee of the "Ten Outstanding Filipino Soldiers" by the Metrobank Foundation.
Marcos also named retired Maj. Gen. Isagani Nerez as Undersecretary for Police Affairs of the OPAMA.
Nerez is a member of the Philippine Military Academy Maharlika Class of 1984. Nerez, who is also a lawyer, served in various capacities in the units of the Philippine National Police such as the Police Anti-Crime Emergency Response and the Directorate for Integrated Police Operations, Eastern Mindanao.
He was also part of the PNP Special Action Force, Presidential Anti-Organized Crime Task Force, and the PNP Anti-Kidnapping Group .
Prior to this, he was the Chief of the Baguio City Police Office and became Chief Superintendent of the Cordillera Police Regional Office.
Marcos also picked lawyer Nesauro Firme to represent the academe in the Judicial Bar Council.
Firme is a law professor and practitioner. He obtained his Bachelor of Laws degree from the Faculty of Civil Law of the University of Santo Tomas.
He worked as an Executive Assistant at the Metropolitan Manila Development Authority.
Firme is a senior partner of Oliva Firme and Associates and a former faculty of the Colleges of Law of the Polytechnic University of the Philippines and Jose Rizal University, respectively.
Marcos also named Carlo Dimayuga III as acting chairperson of the Metropolitan Manila Development Authority (MMDA). He will replace Romando Artes.
Executive Secretary Vic Rodriguez administered the oath of Dimayuga in his office, according to a report from PTV-4. (PNA)