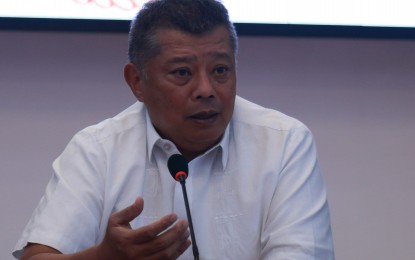 MANILA – The Department of Justice (DOJ) on Wednesday said it will leave no stone unturned and will not spare anyone in reviewing the investigation of cases arising from the government's campaign against illegal drugs.
In a press briefing, Justice Secretary Jesus Crispin Remulla said the government's investigation is being hobbled by the lack of witnesses willing to shed light on drug war cases involving deaths.
"Wala kaming sasantuhin (We will have no sacred cows)," Remulla said.
He added that the Philippines, acting under the "principle of comity", will "furnish information out of courtesy" on the drug cases to the International Criminal Court (ICC).
The principle of comity refers to a country's show of respect for the laws, judicial decisions, and institutions of another.
Remulla underscored that the government has adequately provided institutional measures to address and prevent the occurrence of extra-judicial killings even in the past administrations.
"As early as 2007, then-President Gloria Macapagal Arroyo, through AO 181, created a Task Force against political violence. This is to mobilize government agencies and non-government groups to curb violence and killings. Further, under AO 211, the whole-of-government approach was adopted where different agencies were tasked to address these occurrences not only through focused and vigorous prosecution but through programs to care for and protect communities victimized by violence with the strategic deployment of law enforcement agents, and promotion of culture opposed to violence through multi-sectoral cooperation," he said.
He said that since the creation of an Inter-Agency Committee (IAC) on extra-legal killings in 2012 under the Aquino administration, it has taken an effort to build up cases for 295 extra-legal killings, majority of which are attributed to lawless groups.
However, the lack of witnesses has greatly hampered the swift prosecution of cases especially when the occurrence is attributable to non-state agents such as armed groups and lawless elements.
"Please note that the majority of extra-legal killings are not perpetrated by state operatives but are attributable to armed groups, including local terrorist groups and other lawless elements. It should be noted that because of the whole government approach, the extra-legal killings in the last two years are already few and far between," the DOJ chief said.
On criminal cases involving uniformed personnel, Remulla said cases have proceeded and at least 18 police and military personnel have been convicted for murder and sentenced to life imprisonment.
In addition, 17 other cases against civilians have led to convictions and were meted with a penalty of reclusion perpetua or up to 40 years imprisonment.
Remulla added that the cases of 52 individuals who were killed after allegedly resisting arrest in anti-drug operations conducted by police officers have also been duly acted upon by the DOJ with the assistance of the National Bureau of Investigation.
"The case build-up and prosecution have been completed for seven cases against police personnel. Cases for murder have been properly filed in the courts and we believe the evidence culled will be sufficient to hold them for conviction," he said.
These cases involve incidents of killing in Metro Manila, Agusan del Sur, Western Mindanao, Zamboanga del Norte, Caraga, and Mimaropa.
"These occurrences, therefore, do not happen unabated and are ignored as the government had been and will continue to be present and in control. We have proven that through the whole-of-government approach, the State is capable of curbing violence and extra-legal killings, and exacting justice from the perpetrators. But the effort cannot be left to the government alone. The multi-sectoral approach is more appropriate so that communities may be better protected from violence," he added. (PNA)