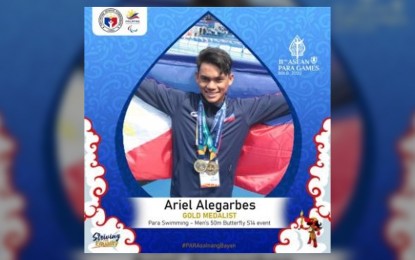 BACOLOD CITY – The City of Victorias in Negros Occidental lauded on Wednesday its very own Ariel Joseph Alegarbes for winning two gold medals in record-breaking fashion at the 11th Asean Para Games 2022 in Indonesia.
"With great joy and honor, I congratulate our city's pride and inspiration," Mayor Javier Miguel Benitez said in a statement.
Benitez said Victorias City, together with the entire nation, is celebrating the achievement of the 18-year-old Alegarbes.
"Let us wish him luck on his next event as we send our prayers for the success and safety of the Philippine Para Games Team," the mayor added.
At the Jatidiri Sports Complex pool in Semarang on Monday, the Negrense tanker ruled the men's 100-meter backstroke S14 event in one minute and 03.01 seconds, breaking the time of 1:03.60 held by Indonesia's Muhammad during the 2017 Kuala Lumpur Asean Para Games.
Topping the 50-meter butterfly S14 in 26.43 seconds, he also smashed the joint record of 30.01 seconds set by Malaysian W.Y. Chung and Indonesian D. Nugruho in the same meet five years ago.
Alegarbe, who suffers from ADHD with learning disability and dyslexia, is the country's first double gold medalist in the meet.
On August 5, Alegarbes will compete in the 50-meter freestyle.
In December last year, he also won gold and silver medals in the 2021 Asian Youth Para Games held in Bahrain.
He took the gold medal in the 100-meter butterfly, and silver medals in the 100-meter backstroke and 100-meter breaststroke as well. (PNA)