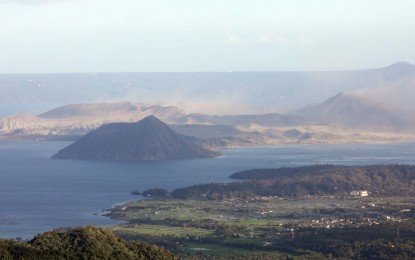 MANILA – An increase in volcanic sulfur dioxide (S02) emission has been observed in the Taal Volcano, the Philippine Institute of Volcanology and Seismology (Phivolcs) on Wednesday said.
A total of 12,125 tons of S02 gas was recorded on Wednesday, the highest since the volcano was placed under Alert Level 1 (low-level unrest) last July 11.
This volcanic gas is expected to drift northeast of the Taal Volcano Island.
In an advisory, Phivolcs said the increased degassing has been visible in the form of upwelling in the Main Crater Lake and voluminous steam-rich plume activity in the past three days. The average S02 emission since July 15 was 4,952 tons per day, higher than the 1,290 tons/day average between May and mid-July this year.
Phivolcs said volcanic smog or vog has been observed since Tuesday over the western Taal Caldera, and reported to have been heavy over the town proper of Laurel and Barangay Banyaga in Agoncillo, where damage to vegetation was also documented by municipal officials.
"Sulfur stench was also reported by residents of Tagaytay City and Bugaan East, Laurel, Batangas," the advisory read.
Vog consists of fine droplets containing volcanic gas which is acidic and can cause irritation of the eyes, throat and respiratory tract in severities depending on the gas concentrations and durations of exposure.
People who may be particularly sensitive to vog are those with asthma, lung disease and heart disease, the elderly, pregnant women and children.
Phivolcs advised communities that may be affected by vog to avoid outdoor activities to limit their exposure; as well as to keep their doors and windows closed.
Further, they are urged to wear a mask (ideally an N95) and to drink plenty of water to reduce throat irritation.
Meanwhile, nine low-frequency volcanic events that included tremors 8 to 12 minutes in duration were recorded in the past observation period, and Phivolcs said this was more than the baseline level of volcanic earthquakes.
Earlier, Phivolcs Director Renato Solidum Jr. said these tremors are volcanic earthquakes signifying fluid or gas movement.
Taal Volcano is still under Alert Level 1, which means sudden steam-driven or phreatic explosions, volcanic earthquakes, minor ashfall and expulsions of volcanic gas could threaten areas within Taal's permanent danger zone. (PNA)