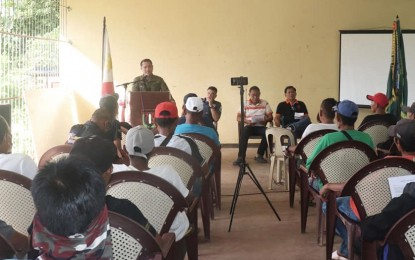 BACOLOD CITY – Some 42 peacekeeping volunteers in the remote village of Bug-ang in Toboso, Negros Occidental were trained in Integrated Territorial Defense System (ITDS) by the Philippine Army to prevent the Communist Party of the Philippines-New People's Army (CPP-NPA) from reestablishing its presence in the community.
The trainees, including the members of barangay tanod (village security) brigade, barangay peace action teams, bantay bukid brigade, and Pakigdaet sa Kalambuan (Peace for Progress) Association, will serve as force multipliers of government security forces in the area.
1Lt. Dansan Camua, civil-military operations officer of the 79th Infantry Battalion, on Thursday said Bug-ang has been considered an NPA-affected area after a people's organization based in the village was once influenced by armed rebels.
They were paying revolutionary taxes before, but they later rejected the presence of the CPP-NPA by declaring them persona non grata, he added.
"We will make sure to pre-empt the recovery efforts of the armed rebels in Barangay Bug-ang," Camua said.
The ITDS training seeks to integrate the efforts and capacitate the territorial forces and the populace of the village to form an effective and proactive defense system.
It also aims to strengthen the barangay intelligence networks to monitor the presence of armed rebels and other threat groups and to insulate the residents from their influence that may undermine the peace and development of the barangay.
The two-day training held from Aug. 2 to 3, was conducted in partnership with the Barangay Council of Bug-ang and the Toboso Municipal Police Station.
The CPP-NPA is listed as a terrorist organization by the United States, the European Union, the United Kingdom, Australia, Canada, New Zealand and the Philippines.
The National Democratic Front has been formally designated as a terrorist organization by the Anti-Terrorism Council on June 23, 2021, citing it as "an integral and inseparable part" of the CPP-NPA created in April 1973. (PNA)