DUMAGUETE CITY – The Bureau of Customs subport of Dumaguete in Negros Oriental has exceeded its July target with more than PHP1 billion in revenue collection, closing the gap to reaching its target for this year.
Gina Fatima Lasola, OIC Customs Collector of the Dumaguete subport, told the Philippine News Agency on Friday that the July collection of almost PHP1.3 billion has more than doubled its target set for the month.
The actual target for July was a little over PHP573 million, thus the accomplishment is 126.63 percent higher for this particular month, Lasola said.
"This collection is considered a high record as it generated the first ever billion collected by the Subport in just a month," she said.
Lasola attributed the excess collection to the increase in excise taxes this year as well as fuel importation which doubled from last year.
The volume of importation of petroleum products grew by 20 percent compared to the volume in 2021.
The current excise tax rate is PHP10 per liter for gasoline, PHP6 per liter for diesel, and PHP3 per liter for liquefied petroleum gas (LPG), considered the top three imports as to volume, Lasola said.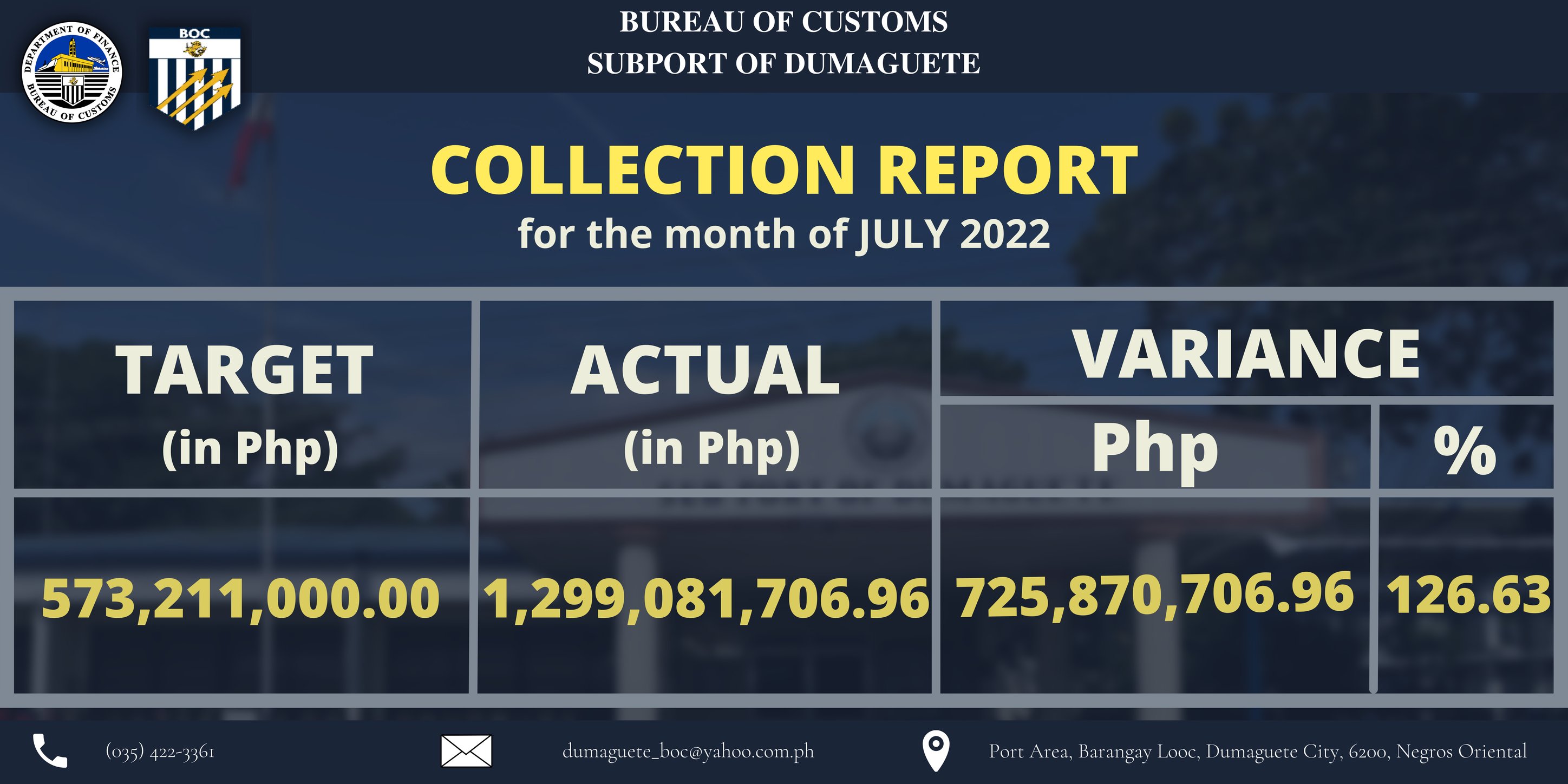 The subport is confident that it can meet or even surpass the 2022 target of PHP6.4 billion, as current accumulated collection since January is now about 84 percent.
"We only need 16 percent in revenue collection for us to reach that target and with five months remaining until the end of the year, we are confident that we can achieve or even surpass that," Lasola said.
She acknowledged the cooperation of the men and women of the subport in implementing the rules on tariff valuation and classification to maximize collection, as well as the support of the stakeholders in complying with Customs regulations. (PNA)