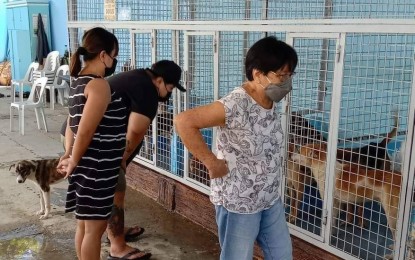 ILOILO CITY – The City Legal Office here has recommended the filing of administrative charges against the city veterinarian and eight others found to have "euthanized" 11 stray dogs, five of them puppies, in Barangay Navais, Mandurriao on July 20.
In a report furnished to the local media on Friday, lawyers Joseph Edward Areño and Lloni Viterbo submitted their recommendation to the mayor's office on Thursday.
In their findings, the city lawyers noted that the city veterinarian, Dr. Thomas Forteza Jr., has failed to prove that the dogs were dangerous, suffering from pain or discomfort, or diagnosed with a disease.
"The policy of the state is not to outrightly euthanize stray dogs but to impound them, make them available for adoption, and only under exceptional situation, such as when they are found sick or rabid or vicious or some other justifiable purpose, that the law sanctions killing them, whether instantly or after observation period," the lawyers said in their report.
They added that the 11 dogs could have been impounded for three days and if suspected to be rabid, they should have been "isolated and observed accordingly" and submitted to laboratory examination upon death.
In a talk on July 27 with the investigating team, Forteza admitted that he and his team, composed of Restituto Ebrada, Junivel Sampiano, Joseph Sesbreño, Raymund Rovido, Lito Amonador, Elanger Suating, Julio Forteza, and Markwel Clamor, conducted an operation in Barangay Navais to catch stray dogs but "in the process killed or euthanized" them, including the five puppies.
Forteza pointed out that there were "rampant stray dogs in the area", rabies victims at the adjacent barangay, and "consistent positive cases for nine years."
The city veterinarian also cited provisions of the Animal Welfare Act of 1998 and the Anti-Rabies Act of 2007 as among his legal basis for the mercy killing of the dogs.
Forteza was acting in response to the request of Navais Punong Barangay JJ Jhanneigh L. Mercado on July 14 to "send a competent team in order to catch stray dogs as (they) cause danger" to his constituents.
Forteza also told the investigating team that Mercado requested that the dogs be euthanized, directing them to a spot in the barangay where the team could kill and bury the animals.
Mayor Jerry P. Treñas on July 23 tasked the City Legal Office to look into the issue and ensure that proper administrative action would be given, as warranted under circumstances. (PNA)