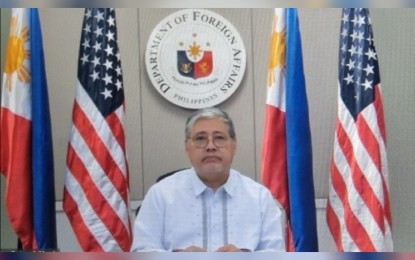 MANILA – Foreign Affairs Secretary Enrique Manalo said the Philippines and Southeast Asian nations cannot afford escalation in the region as tensions simmer between the United States and China over the recent trip of Speaker Nancy Pelosi to Taiwan.
In a meeting with visiting US Secretary of State Antony Blinken on Saturday, Manalo said an escalation could risk creating instability in the region, especially as the world is just recovering from the effects of the coronavirus disease 2019 (Covid-19) pandemic.
"We can ill-afford any further escalation of tensions in the region, because we are already facing a number of challenges getting our economy back to work, especially because of the Covid-19 pandemic. And we all know that no one country will be able to deal with all these issues on their own," he said.
"We look at the United States, a very important ally, our dear friend, as we chart our path forward," he added.
Blinken, meanwhile, said Washington DC is" determined to act responsibly" to avoid crisis and conflict in the region.
He added that the US "always stands by" its partners as he cited the "deep concerns" expressed by countries, including the Philippines, over the latest developments in the Taiwan Strait.
"Maintaining peace and stability across the Taiwan Strait is vital, not only for Taiwan, but for the Philippines, and many other countries. What happens to the Taiwan Strait affects the entire region. And in many ways, it affects the entire world because the strait, like the South China Sea, is a critical waterway," he said in a post-bilateral presser.
"The United States doesn't believe that it's in the interest of Taiwan, the region or our own national security to escalate that situation," he said.
He also assured that the US would keep its channel and communication with China open to avoid any miscalculation due to misunderstanding or miscommunication. (PNA)