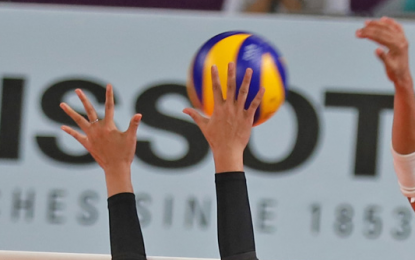 MANILA – A night after announcing that its main players will make up the national team for the AVC Cup for Women, National University (NU) recalled its women volleyball stars from the Philippine team.
The supposed Lady Bulldogs-bannered team was supposed to participate in the PVL Invitational Conference as a guest team as part of their buildup for the Aug. 21-29 event at the PhilSports Arena in Pasig City.
However, according to Sports Vision, team manager Bing Diet pulled the plug on having his players play with the national team.
"The organizing Sports Vision said See Diet expressed concerns about the possibility of the players sustaining injuries given the level of competition in the PVL," the league said in a statement.
With See Diet's veto, the Philippine National Volleyball Federation (PNVF) had no other choice but to break up the national team.
"We are now writing to inform your good office, though with much regret, that we shall release the NU student-athletes and coaches from the National Training Program, effective today [Sunday], 7 August 2022," the PNVF said in a letter sent to university president Carlos Ermita. "We have been compelled to make this difficult yet important decision due to the recent turn of events within the team's training schedule and corresponding availability. We feel that the said student-athletes and coaches, alongside the team manager Engineer Bing Diet, may not be able to commit to performing at their best given a number of restrictions and conditions that hinder the continuous conduct of training and overall program."
The Philippine squad is supposed to replace Kobe Shinwa Women's University as a guest team.
But with no more time to make a late replacement following the NU core pullout, the semifinals of the PVL Invitational Conference will resume on Monday at the Mall of Asia Arena in Pasay City with only five teams playing -- Creamline, PLDT, Cignal, Army, and KingWhale Taipei.
With this development, the PNVF announced that the champion of the PVL Invitational Conference will become the Philippine team in the AVC Cup for Women.
However, if KingWhale Taipei wins it all, the runner-up squad will be given the national team nod.
PVL president Ricky Palou, also the PNVF treasurer, agreed to lend the league's players to the national team.
Despite basically having the entire roster in, the eventual PVL champion will also be adopting Jelai Gajero and Trisha Genesis for the AVC Cup for Women.
On the other hand, following the Philippine team's pullout, the match between the Cool Smashers and the HD Spikers has been moved to a Monday night clash at the MOA Arena with the first spike scheduled to happen at 5:30 p.m., right after KingWhale Taipei collides with Army at 2:30 p.m.
The following playdates have become just one-game affairs each starting at 4 p.m. with KingWhale Taipei taking on PLDT on Tuesday also at the MOA Arena, Creamline on Friday, and Cignal on Saturday, both the latter matches happening at the FilOil EcoOil Centre in San Juan City. (PNA)