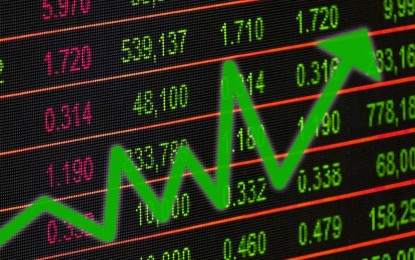 MANILA – The Philippines' main stocks gauge started the day up and the peso finished the day sideways against the US dollar.
The Philippine Stock Exchange index gained 0.45 percent, or 28.74 points, to 6,434.24 points.
All Shares followed with a jump of 0.49 percent, or 16.67 points, to 3,448.73 points.
Most of the sectoral indices also finished the day with gains namely Financials, 1.11 percent; Industrial, 0.94 percent; Services, 0.87 percent; and Holding Firms, 0.55 percent.
On the other hand, Mining and Oil slipped by 1.76 percent and Property by 0.74 percent.
Volume remained thin at 591.4 million shares amounting to PHP7.91 billion.
Advancers led decliners at 113 to 55 while 55 other shares were unchanged.
"Philippine shares traded. Higher as the local market awaits the release of the country's 2Q22 (second quarter 2022) GDP (gross domestic product) figures on Tuesday, August 9," Luis Limlingan, Regina Capital Development Corporation head of sales, said in a statement.
The Philippine Statistics Authority (PSA) reported during the day the cut in the domestic economy's expansion in the first quarter of 2022 from 8.3 percent estimate to 8.2 percent.
The downward revision was traced to movements in the estimates for real estate and ownership of dwellings from 7.9 percent to 5.9 percent; manufacturing, from 10.1 percent to 9.8 percent; and wholesale and retail trade, repair of motor vehicles and motorcycles, from 7.3 percent to 7 percent.
Relatively, the PSA reported the flat print for the unemployment rate for June 2022 at 6.0 percent, same as the previous month.
Labor force participation in the sixth month this year rose to 64.8 percent from month-ago's 64 percent but employment rate is flat at 94 percent.
Underemployment declined to 12.6 percent from month-ago's 14.5 percent.
For external factors, Limlingan said the US reported Friday the higher-than-expected growth of nonfarm payrolls to 528,000 from estimates of around 258,000.
Also, unemployment stood at 3.5 percent, a tad lower than the 3.6 percent estimate.
"The unemployment rate is now back to its pre-pandemic level and tied for the lowest since 1969," Limlingan said.
Similarly, the peso was little changed against the US dollar after it finished the day at PHP55.55 to a US dollar from its PHP55.2 finish Friday.
It opened the day at PHP55.5 and traded between PHP55.72 and PHP55.45. Average level for the day stood at 55.594.
Volume reached USD886.97 million, lower than the USD1.22 billion in the previous session. (PNA)