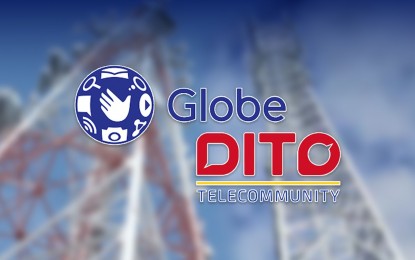 MANILA – Globe Telecom on Tuesday asked the National Telecommunications Commission (NTC) to penalize DITO Telecommunity for interconnection violations amounting to PHP622 million.
In a statement, Globe said the penalties were due to "fraudulent calls" made using DITO's network to Globe which bypassed "proper voice traffic channels".
The allegation came a day after DITO filed a complaint before the Philippine Competition Commission (PCC), accusing Globe and Smart Communications of abuse of market dominance, resulting in interconnection woes.
"An average of 1,000 fraudulent calls -- identified as international in origin but masked as local calls -- are allowed to pass through DITO's network to Globe users every day in violation of interconnect rules," Globe said.
The penalty covered July 2021 to July 2022 and reached such an amount due to DITO's alleged "adamant refusal to compensate Globe, defying provisions of its interconnect agreement on bypass traffic."
"In comparison, zero or no bypass traffic has been allowed to pass from Globe to DITO due to its advanced monitoring systems and sophisticated network protection from illegal calls," it said.
Globe also asked the NTC to authorize its "temporary disconnection" of interconnection trunk lines with DITO until the latter has "taken positive and concrete steps to stop all illegal bypass operations emanating from its network and paid all its outstanding liabilities to Globe for fraudulent calls."
To date, it said DITO has failed to take any "serious actions to curtail bypass activities from its network" and has instead "continuously increased."
"DITO's twin failures to check these bypass activities and pay Globe what it is justly due have worked on a continuing serious prejudice against Globe," it said.
Proper channels
In response, DITO chief administrative officer Adel Tamano said Globe's insistence that interconnection will only be done if they pay the alleged penalties is an "admission that they are making interconnection, which is mandated by law, subject to the acceptance of this alleged obligation."
Tamano said Section 15(c) of the Competition Act deems abuse of dominant position when a dominant entity makes a "transaction subject to acceptance by the other parties of other obligations which, by their nature or according to commercial usage, have no connection with the transaction."
He said informing the media about the alleged interconnection penalties or international simple resale (ISR) calls is a "disclosure of confidential business information that is a violation of PCC's rules of procedure."
"However, given that they have already publicly disclosed this information, then DITO has a right to respond," he said.
He said the fraudulent calls through ISR calls were not made by DITO but by third parties.
"DITO is equally a victim of such calls. Additionally, there are also ISR calls from Globe to DITO. It is not true that DITO has not taken steps to stop ISR calls to Globe. We have the data and the facts to show the steps undertaken by DITO to minimize these ISR calls," Tamano said.
He noted that the NTC is not a "collection agency" and if Globe has monetary claims against DITO, the former should "go to the proper tribunal to enforce their claims."
"Let us reiterate that DITO Telecommunity is pursuing the case filed with the Philippine Competition Commission. We are doing this to fulfill our mandate to provide true competition in the telecom industry and to ensure that the Filipino people are given world-class telco services they rightfully deserve," he said.
Market abuse
On Monday, DITO accused Globe and Smart of abuse of market dominance through interconnection woes, resulting in as little as 20 to 30 percent of calls made by DITO subscribers successfully connecting to Globe and Smart.
Globe said issues with cross-network interconnectivity were being worked on through "the legal route" and that it has remained true to its interconnectivity deals with DITO, including domestic voice and SMS in November 2020, landline in March 2021, and the Cellular Mobile Telephone Systems International Gateway Facility in September 2021.
PLDT, the parent company of Smart, said it has yet to receive a copy of the complaint but assured that it has "always supported and ensured fair competition in the telco industry." (PNA)