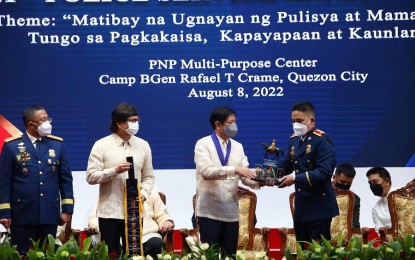 SAN JOSE DE BUENAVISTA, Antique – The chief of the San Jose de Buenavista Municipal Police Station (MPS) is eyeing cyber-policing training for his personnel to address the threat of cybercrimes.
With skills in fighting online attacks and abuses, the local police force will no longer have to rely on the regional police office based in Iloilo City for the identification of perpetrators, Maj. Benjo Clarite said in an interview on Tuesday.
Clarite spoke of his plan after his station won the country's Best Municipal Police Station during the celebration of the 121st Police Service Anniversary held in Camp Crame on Monday.
"The team of national validators saw the active support of the LGU (local government unit) and the community to the San Jose de Buenavista police station, that is why it was able to receive the award," he said.
Clarite received the trophy and plaque of recognition from President Ferdinand Marcos Jr. and Philippine National Police Chief, Gen. Rodolfo Azurin Jr.
"There is no organized crime, such as kidnap for ransom, carnapping, and robbery that had happened in the municipality because of the CCTVs and our effective intelligence function," he said citing the reasons for the recognition.
The LGU has installed 16 closed-circuit television (CCTV) cameras in the municipal hall and main thoroughfares, enabling the local police to closely monitor the situation in the municipality.
The station is waiting for the delivery of nearly PHP1.3 million worth of CCTV cameras purchased by the LGU.
The San Jose de Buenavista Police Station was awarded as the Best Police Station in Western Visayas in 2021 but failed to bag the national award. (PNA)