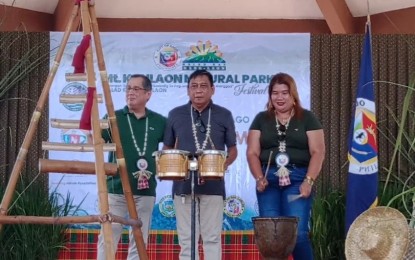 BAGO CITY – Six local government units (LGUs) have renewed their commitment to protecting the Mt. Kanlaon Natural Park (MKNP), the site of Mt. Kanlaon, an active volcano in Negros Island, in a three-day festival here starting Tuesday.
Hosted by the city government of Bago, just south of Bacolod, the fourth edition of "Halad kay Kang-laon" (Offering to Kanlaon) is being held in collaboration with the Department of Environment and Natural Resources and Protected Area Management Board.
Mayor Nicholas Yulo of this city welcomed the celebration of the MKNP as a protected area for the first time in two years, following the onset of the coronavirus disease 2019 (Covid-19) pandemic.
This year's MKNP Festival, themed "Pagbangon sang Kumunidad, Nasandig sa Pag-amlig sang Dunang Manggad" (The recovery of the community lies on the conservation of natural resources), marks the 21st year of Republic Act 9154, otherwise known as MKNP Act, which was signed into law on August 11, 2001.
Aside from Bago, Mt. Kanlaon also spans five other LGUs, including San Carlos City, La Carlota City, La Castellana, and Murcia in Negros Occidental, and Canlaon City in Negros Oriental.
Denis Pinosa, MKNP protected area superintendent, said Mt. Kanlaon is an important source of water supply on Negros Island.
Its watershed area feeds three river systems, including the Bago, Nahalin, and Binalbagan river systems.
MKNP is also a key biodiversity area, an eco-tourism venue being the highest peak in the Visayas, and a source of agricultural products, Pinosa added.
Mae Ann Furtos, senior tourism operations officer of Bago City, said the event aims to promote ecotourism inside the natural park.
Considered the last frontier of the Negros forest, the MKNP highlights the need to awaken the consciousness of the community on the protection and conservation of the environment.
"Bago City is host to the largest forested area in the entire MKNP. The festival also aims to further strengthen various environmental advocacies as well as the cooperation among every member-LGUs," Furtos added.
During the opening program, Yulo, Pinosa and La Castellana Mayor Rhumyla Nicor-Mangilimutan led the symbolic "patik" (tapping) to formally open the festival.
Other events set until Thursday include the trade fair agri-booth competition, search for the "Diwata kag Suta sang Kanlaon 2022", earth concert and fellowship night, mountain bike challenge, tree-growing, super-sized canvas and body painting contest, creative dance contest, farm tour, street dance, and festival dance presentation. (PNA)