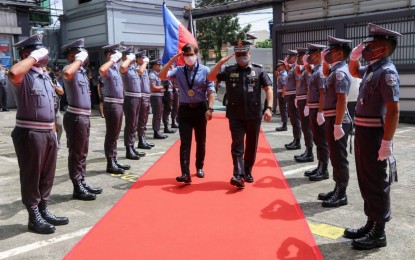 MANILA – Department of the Interior and Local Government (DILG) Secretary Benjamin Abalos Jr. ordered the Bureau of Jail Management and Penology (BJMP) to do a thorough medical screening and physical examination for persons deprived of liberty (PDLs) before being admitted to its jails.
"Kung pwede tayong mag-conduct ng test para sa TB (tuberculosis), test para sa HIV at hepatitis para sa PDLs, mas mainam kapag magawa natin ito. After all, at risk ang greater population sa loob ng mga jails kung may infected na individual (If we can conduct a test for TB, test for HIV and hepatitis for PDLs, it would be better if we could do it. After all, the greater population inside the jails is at risk if there is an infected individual)," Abalos said during his command visit to the BJMP national headquarters in Quezon City on Tuesday.
Abalos cited the need for the measure, especially now that the country has recorded its first confirmed case of monkeypox in late July.
"Mas mabilis ang infection kapag siksikan sa facilities natin (The spread of infection is faster when our facilities are crowded). And now we have the problem of monkeypox. So what I want is for us to come up with a memorandum circular on the prevention and response of the BJMP in relation to monkeypox," he said.
As of June 30, data from the BJMP showed that its 477 jail facilities manned by 186,696 jail personnel house a total of 131,193 PDLs nationwide, translating to a 387 percent congestion rate.
It added that out of this figure, 337 jails are congested.
Abalos also urged the BJMP to "think out of the box" in coming up with solutions to curb congestion.
"Kung ganito talaga ang situation (If this is our situation), let's think out of the box. Why not enter a deal with LGUs for a usufruct? One of the determinants of whether or not an area is rich or poor is the number of assets that the LGU has, kung talagang hesitant ang LGU mag-donate (if the LGU is really hesitant to donate)," he said.
Usufruct is a legal term in which an individual is granted the legal right to utilize the property or asset belonging to someone else.
Meanwhile, Abalos reminded the BJMP to strengthen its efforts in ensuring drug-free facilities.
"I will be conducting a surprise drug test for PDLs. I will personally go to our jails and I will be conducting surprise drug testing of BJMP personnel and PDLs in those jails. Magpapa-urinalysis ako sa mga jails. So I'm warning each and every BJMP warden and personnel, kapag may nag-positive, then it means na may nakapasok na droga sa mga jail facilities natin (I will order the conduct of urinalysis in jails. So I'm warning each and every BJMP warden and personnel, when someone tests positive, then it means that drugs are able to enter our jail facilities)," he added.
The DILG chief issued the warning in light of reports that some drug lords continue to operate in jails.
"Sometimes there are rumors that some big-time drug lords are operating in jails themselves. Ang issue dito ay communication. Paano sila nagkaka-contact sa labas? (The issue here is communication. How do they contact the outside?) We need to cut their communication. They use phones to conduct their drug trade. So we need signal jammers to stop their communication outside," Abalos said.
He also called for the digitization of all PDL records through the "Single Carpeta System".
BJMP chief Jail Director Allan Iral, meanwhile, assured Abalos that the BJMP is putting a premium on digitization.
"At present, all general records of PDL are already encoded due to the fact that PDL that are committed to our care are required to be encoded in the system immediately," Iral said.
He said since the first quarter of 2022, the bureau has started digitizing records of PDLs such as the commitment order, information sheet, and medical certificate.
"Aside from the module of PDL general records, PDL medical information, welfare and development programs availed, good conduct time allowances, and authorized visitors will also be uploaded in the system," he said. (PNA)