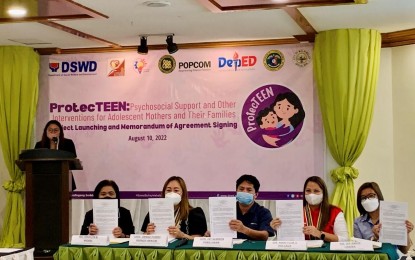 MANILA – The Department of Social Welfare and Development (DSWD) along with the Commission on Population (PopCom) launched Project ProtecTEEN, which aims to provide psychosocial support and other interventions for teenage mothers and their families on Wednesday in Malaybalay, Bukidnon.
"As a national agency mandated to provide care and social protection to the most in need, this project is vital in our programs and services, especially in the overall social protection packages for the youth and women sectors, with a special concern for the Department's goal of developing them to their utmost potential," DSWD Secretary Erwin Tulfo said in a statement.
Project ProtecTEEN is a social welfare model of intervention that intends to create a supportive environment for adolescent mothers and their families. The strategy of this framework includes the empowerment of teenage mothers through the provision of direct social services and assistance, referral to other agencies and organizing peer advocates.
The target clientele of the ProtecTEEN is adolescent mothers aged 10 to 19 years old, their children, partners, and other household members who provide support to them. It is piloted in three local government units -- Antipolo City, Malabon City and Malaybalay, Bukidnon.
DSWD personnel Lai Zata explained on Wednesday that the criteria of the agency in selecting pilot areas are high incidence or prevalence of adolescent pregnancy in the area; willingness to implement the project and carry out the expected; and availability of Adolescent Sexual and Reproductive Health (ASRH) services and other related projects in the areas.
Each pilot region will determine a local government unit that shall be responsible in identifying at least two barangays to implement the project, Zata explained.
Aside from the project launch, a Memorandum of Agreement and a Pledge of Commitment were also signed by the DSWD and concerned local chief executives in the pilot areas, and other partner agencies at the local level.
The project is an offshoot of the Social Protection Program for Adolescent Mothers and their Children (SPPAMC) as mandated under the special provision of the 2022 General Appropriations.
Former DSWD Secretary Rolando Bautista and PopCom chief Dr. Juan Antonio Perez III signed this in June 2021.
Numbers still up
This partnership was aimed at preventing teenage pregnancies and establish sufficient and accessible measures to protect the well-being of existing teenage mothers and their children, as envisioned in the Philippine Development Plan and the 2030 agenda for sustainable development.
Data from PopCom showed the Philippines ranks fourth in terms of early childbirth rates among Southeast Asian countries.
The Philippine Statistics Authority's Civil Registration and Vital Statistics (PSA-CRVS) indicated there were about 171 live births to minors every day in 2019.
The agency also noted a general increase in the number of births from adolescents aged 10 to 14 in that same year, with about seven giving birth, compared to three daily in 2011.
The PSA-CRVS revealed that in 2015, there were 5,297 repeat pregnancies, or second-time births, among 10- to 17-year-old girls, with only a slight decrease in 2018 at 4,633. (PNA)