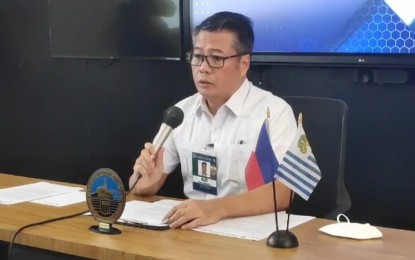 MANILA – Bureau of Customs (BOC) officials in all ports of the country will keep their posts as long as they have performed well, Commissioner Yogi Filemon Ruiz said on Wednesday.
In a press briefing, Ruiz said he does not intend to move Customs personnel who are doing their jobs well.
"For the district collectors, my policy is if they are performing, they will remain in their positions. If they did not meet their (collection) target, then they will be replaced with someone who can do the job better," he said.
Ruiz, meanwhile, said they are finalizing the selection process for key positions in the bureau.
"From my level, we have to scrutinize our endorsees, the personnel that we would be endorsing to the President. We have to scrutinize them, we have to vet them, In the coming days, we will be finalizing it and we will transmit it to Malacañang," he added.
Ruiz, meanwhile, said the BOC has lowered its target collection for the rest of the year to PHP740 billion from PHP760 billion.
"It's been lowered considering the present situation not only in the local but it international scene. The situation in Ukraine, high prices of oil products, it is affecting us right now," he added.
Ruiz, however, is optimistic that the bureau will be able to surpass the target collection for 2022.
Last month, 15 of the 17 collection districts of the bureau hit their respective monthly target collection.
Based on the preliminary report of its Financial Service as of August 3, the following areas have positive collections in July -- Port of San Fernando, PHP1.618 billion (actual) vs. PHP805.83 million (target); Port of Batangas, PHP18.129 billion vs. PHP14,855 billion; Port of Zamboanga, PHP1.491 billion vs. PHP957.24 million; Port of Davao, PHP4.549 billion vs. PHP3.353 billion; Port of Cagayan de Oro, PHP3.320 billion vs. PHP2.907 billion.
Other ports that have also exceeded their collection targets are the Port of Manila, PHP7.776 billion (actual) vs. PHP5.669 billion (target); Port of NAIA, PHP3.552 billion vs. PHP2.356 billion; Port of Tacloban, PHP810.24 million vs. PHP385.14 million; Port of Subic, PHP5.428 billion vs. PHP3.782 billion; Port of Cebu, PHP4.376 billion vs. PHP3.309 billion; Port of Legazpi, PHP22.82 million vs. PHP28.03 million.
The following also posted a surplus in their collections: Manila International Container Port (MICP), PHP18.891 billion (actual) vs. PHP14.372 billion; Port of Limay, PHP11.895 billion vs. PHP10.022 billion; Port of Iloilo, PHP478.22 million vs. PHP238 million; and Port of Clark, PHP326.65 million vs. PHP258 million.
The two ports that were not able to reach their targets are the Port of Surigao, after collecting only PHP810,000, lower than the target of PHP1.70 million, and the Port of Aparri which only collected PHP80.56 million, lower than its PHP99.82 million target. (PNA)