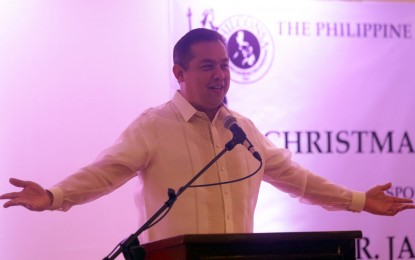 MANILA – House Speaker Martin Romualdez on Wednesday highlighted the role of media as the fourth estate of Philippine democracy tasked to inform and educate the public and check up on the three branches of government.
During his meeting with the United Print and Multimedia Group (UPMG) officials in his office, Romualdez said the government should consider media as a partner in nation-building instead of shunning them away.
"From day one in government, I have considered the Philippine media not as an adversary but a partner in nation-building," Romualdez said. "Some say we in government should be wary of journalists as the media usually focus on the negatives rather than report the positive. They say, good news don't make headlines. My experience with Filipino journalists debunks this myth."
Romualdez said he has met a number of journalists who are decent and responsible members of the profession.
"They are nosy, yes, but they are just doing their job. And they are helping us do our job, too. With their help, we galvanize popular support for measures that are needed to uplift the living condition of our people," he said.
He said while he had been at the receiving end of negative media reports, it serves as an opportunity to explain his side to the public and expound on the issues involved.
"Media reports - be it positive or negative - give us, government officials, relevant and timely feedback from the public with regard to our official acts. They also provide us with a platform on issues that need discussed with a bigger public," he said.
He urged the members of the media to continue giving "valuable space" in their publications for the government's discussions with the public regarding its policies, programs, and goals.
"We need your help in getting across this administration's message to a larger audience. Our message: unity for a bigger purpose. Our vision: a Filipino nation with its people living comfortably and secured in their environment," he said.
"The media industry is called the Fourth Estate for a purpose. It is incumbent upon you to provide public service like what we do in the executive, legislative and judicial branches. The task ahead may be full of challenges, but there is nothing we cannot achieve in unity with our people," Romualdez said. (PNA)