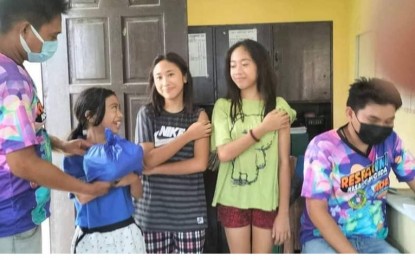 ILOILO CITY – The Iloilo provincial government will blend its vaccination drive with its other programs as a strategy to encourage targeted vaccine takers to support the PinasLakas campaign of the Department of Health (DOH).
"As we go along our approach changes. The approach right now is vaccination blended with other program. We will blend vaccination with other programs as much as possible," Governor Arthur Defensor Jr. said in his regular press conference on Thursday.
Defensor was referring to the recently implemented "Project Nutrivac: Nutrition and Vaccination Towards A New Normal in the Province of Iloilo".
Its implementation, which started in July, has around PHP25 million funds sourced from the financial assistance for coronavirus disease 2019 (Covid-19) downloaded to the province during the last days of the Duterte administration.
Defensor said DOH has directives on nutrition assistance and nutrition packs that were Covid-19 specific, so the provincial government opted to use the fund for the Nutrivac.
"That was really a vaccination blended with our nutrition program based in what we can do with the funds," he added.
The program targeted around 50,000 beneficiaries in the province, although the governor has yet to receive an accomplishment report.
Under the Project Nutrivac, family packs are given to families with children who are underweight, wasted or stunted; indigent families; and those who avail of the Covid-19 vaccination.
The governor added a plan to announce another program next week as he was still working on the executive order.
Data from the Western Visayas Regional Vaccination Operations Center showed that as of Aug 9, 2022, Iloilo province has 152,828 fully vaccinated senior citizens, or 75.18 percent of the 203,282 target eligible elderly population while 20.49 percent or 41,654 received the booster shot.
For the 5 to 11 years old pediatric population, 63.98 percent of the 187,229 of those eligible, or equivalent to 119,784 kids are fully vaccinated.
The coverage for the 12 to 17 age group showed an accomplishment rate of 127 percent for fully vaccinated or 202,259 of the 159,249 projected population and 3.25 percent coverage for booster dose or 5,174.
The adult population or those 18 to 59 years old has an accomplishment rate of 85.25 percent for the fully vaccinated or 795, 778 of the 923, 327 projected population while 21.27 percent or 198, 275 have submitted to a booster dose.
"We are at 86.98 percent of fully vaccinated. Like the whole world, we are facing challenge on our booster because we have 16.7 percent," the governor said.
The PinasLakas campaign aimed to achieve a 90 percent primary coverage series among senior citizens and 50 percent first booster coverage among the general population within the first 100 days of the new administration. (PNA)