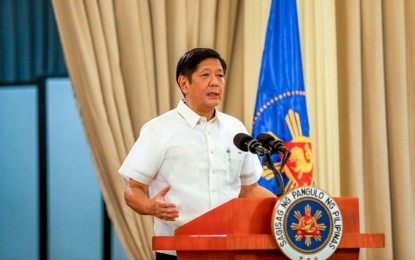 MANILA – President Ferdinand "Bongbong" Marcos Jr.'s top priority is to address pressing national issues, Malacañang said on Friday.
Instead of touting his accomplishments in his first 100 days, Marcos is more focused on finding "short-, medium-, and long-term" solutions to the country's problems, Press Secretary Trixie Cruz-Angeles said during the Laging Handa program.
"Well, 'yung sa Presidente, of course, hindi siya naka-focus sa 100 days dahil (The President is not focusing on his first 100 days because) he has to come up with solutions to problems that are long-term, medium-term, and short-term," Cruz-Angeles said.
Marking 100 days as a milestone in a new administration is an American practice, pioneered by the administration of the late United States president Franklin Roosevelt, according to the Official Gazette.
In the Philippines, the tradition of reporting the administration's activities and accomplishments in its first 100 days began under the leadership of the late president Corazon Aquino.
On June 29, PUBLiCUS Asia, Inc. released its June 16 to 22 PAHAYAG survey, which found that 68 percent of Filipinos are expecting Marcos to perform "well" or "very well" during his first 100 days as the country's 17th president.
Only 14 percent believed that Marcos will have a "poorly" or "very poorly" performance, while 11 percent said he will perform "neither poorly nor well."
Seven percent were unsure of Marcos' performance in the first 100 days of his presidency, according to the survey.
'Very professional'
Cruz-Angeles vouched for Marcos' competence to lead the country, saying the Chief Executive is "very professional" when it comes to fulfilling his mandate.
"I think even as we speak right now, the President does very well. Ang nakikita lang natin (What we notice) is that it took some time for people to realize 'yung style niya, which is deliberative, science-based and, you know, very professional," she said.
Being a "deliberate" president, Marcos tends to provide a "more systematic and efficient response" to the issues confronting the country, Cruz-Angeles said.
"He also likes to deal with institutions para institutional ang ating mga responses (so our responses would be institutional). And he likes things that are planned, well-planned ang organization, well-planned ang mga activities (he wants every organization and all activities to be well planned)," she said.
Monitoring his Cabinet
To ensure the fast and efficient delivery of government service, Marcos is monitoring the activities of his Cabinet, Cruz-Angeles said.
"He always keeps tabs on all of the Cabinet secretaries at alam niya ang mga activities namin (he knows our activities), even pending formal presentation of our own particular roadmap," she said.
Marcos, Cruz-Angeles said, is also assessing each Cabinet secretary's plans.
"So, what he's doing is that each of the department makes presentations about our plans, our assessments of our departments and then the plans for the future to address any issues and to push forward the agenda of the President," Cruz-Angeles said. "Once you have laid out your plans, he will give you his assessment of your own plans tapos aandar na lahat (then things will move forward)." (PNA)