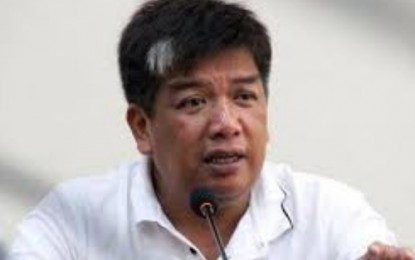 MANILA – A measure penalizing acts of discrimination based on race, ethnicity, or religion and imposing a jail term of up to six months and a fine of up to PHP100,000 against violators has been filed at the House of Representatives.
Basilan Representative Mujiv Hataman filed on Friday House Bill No. 3526, or the proposed Equality and Non-Discrimination on Race, Ethnicity, and Religion Act.
Hataman urged Speaker Martin Romualdez to include the proposal in the priority legislative agenda of the lower chamber to fast-track its approval since it has already been approved on final reading during the previous 18th Congress.
He cited Section 48 of the Rules of the House of Representatives in the 18th Congress, which authorizes the committees to dispose of priority measures already filed and approved on the third reading in the preceding Congress.
"Sayang at hindi natin ito naipasa noong nakaraang Kongreso, pero may pagkakataon tayong muli na maisabatas ito. Dahil hangga't hindi natin ito nagagawa, patuloy na dadami ang biktima ng diskriminasyon sa ating mga kababayan, lalo na sa hanay ng mga kapatid nating Moro at IPs (It's unfortunate that this was not enacted in the previous Congress, but we still have another chance to pass this into law. Because as long as we don't act on this, there would be more victims of discrimination in our country, particularly Moros and IPs)," Hataman said. "I call on the leadership of the House and the rest of my colleagues to consider this measure an urgent one and pass it into law this time around."
The bill states that it is unlawful for any person to perform any act involving a distinction, exclusion, restriction, or preference based on race, color, descent, national or ethnic origin, or religion, which has the purpose or effect of nullifying the recognition, enjoyment, or exercise on an equal footing of any human right or fundamental freedom.
The bill specifies prohibited acts including discrimination in political participation; employment; education and training; the delivery of goods and services; access to public places, facilities, and meetings; land, business, and other accommodation.
The proposed law would also prohibit the portrayal of certain persons in advertisements and mass media as stupid, barbaric, savages, dirty, wild, ignorant, stupid, and similar degrading portrayals; as well as the wrongful portrayal in learning institutions, instructional materials, teaching devices, books and reference materials of certain individuals and/or group/s as inferior religiously, racially or ethnically.
Discrimination through speech, utterances, and acts of hatred; through analogous acts that result in impairment of the enjoyment of human rights and fundamental freedoms; through engaging in profiling; and through abuses of state and non-state actors shall also be prohibited.
"I will defer to the wisdom of the House leadership. Whatever course this measure will take, the most important thing is that we pass it for the benefit of the people," Hataman said. (PNA)