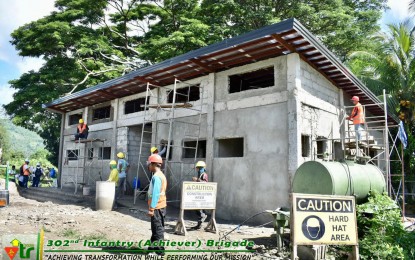 DUMAGUETE CITY – A halfway house for former members of the Communist Party of the Philippines- New Philippines (CPP-NPA) in Negros Oriental is more than 60 percent complete and is targeted for completion in November this year.
Farah Gentuya, provincial director of the Department of the Interior and Local Government (DILG), told the Philippine News Agency on Friday that the construction of the halfway house is funded by their agency amounting to PHP5 million.
"The funding is just for the one-level house itself, excluding furnishings and its fixtures, while the lot is from the Philippine Army's 302nd Infantry Brigade at its headquarters in Camp Leon Kilat in Tanjay City," she said.
Governor Pryde Henry Teves has asked them to submit a proposal as to how he can help provide the other requirements of the halfway house, she added.
Previously, another PHP5 million from the Peace and Order Council's Peace and Order Safety Plan was allocated for the facility's operations, although Gentuya said she has to verify whether the funding was not realigned.
The halfway house is intended to provide temporary shelter for former rebels (FRs) who are undergoing evaluation and other processes for enrollment to the Enhanced Comprehensive Local Integration Program (E-CLIP) or immersion in a locality where they will be staying, Gentuya said.
"The Philippine Army will provide security and other pre-identification requirements for E-CLIP while the Provincial Social Welfare and Development Office will be in charge of the aftercare as stated in the memorandum of agreement," she noted.
Teves recently said in a meeting with members of the Negros Oriental Task Force to End Local Communist Armed Conflict (TF-ELCAC) to prioritize housing for FRs.
He asked the Provincial Agriculture Office and the Department of Agrarian Reform in the province to check on available lands that can be developed for housing projects and farm lots for the former NPA members.
"I told them to submit a report in September as there will be another round of realignment of funds and supplementals in October so that this will be given funding," he said in an interview with the Philippine News Agency.
While the halfway house is just a holding area, the governor wants a more permanent housing arrangement for the FRs, Gentuya said.
Brig. Gen. Leonard Peña, the 302 brigade commander, in a separate interview, said they fully support the move of the governor to prioritize housing for former rebels "to show that what is being done by the national government is replicated at the lower level".
The CPP-NPA is listed as a terrorist organization by the United States, European Union, the United Kingdom, Australia, Canada, New Zealand, and the Philippines.
The National Democratic Front has been formally designated as a terrorist organization by the Anti-Terrorism Council on June 23, 2021, citing it as "an integral and inseparable part" of the CPP-NPA created in April 1973. (PNA)