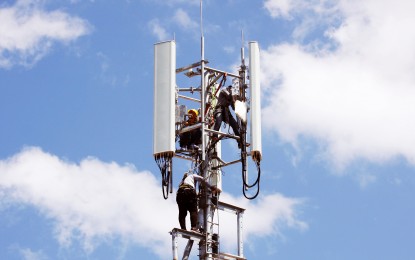 MANILA – Local telecommunications company Globe Telecom, Inc. (Globe) is planning to sell and lease back more than 7,000 of its towers across the country to various tower companies to raise capital while ensuring access to these necessary infrastructures.
In a disclosure to the Philippine Stock Exchange (PSE) on Friday, Globe said 66 percent of these towers are located in Luzon, 19 percent are in Mindanao, while the remaining 15 percent are in the Visayas.
"The tower assets up for sale are made up of 79 percent ground-based towers and 21 percent rooftop towers, and have been grouped into three unique distinct portfolios assigned to three different tower companies representing local and international groups with deep experience and expertise in telecom tower infrastructure, and engineering and construction," it said.
The first portfolio being sold is made up of 2,180 telecom towers in Luzon to MIESCOR Infrastructure Development Corp. (MIDC) for PHP26 billion and with a leaseback agreement of an initial period of 15 years.
"This longer lease tenor provides Globe with more stability and certainty with regard to the use of these passive infrastructures, which is critical to its core telco service," it said.
Its first closing target is expected to happen within the third quarter of the year with an estimated pre-tax transaction gain of PHP10.6 billion, with subsequent closings to follow.
The second portfolio consisting of 3,529 towers will be sold to Frontier Tower Associates Philippines, Inc. for PHP45 billion, with a similar leaseback agreement.
The first closing target for this second portfolio is targeted to happen in the late third quarter with a pre-tax gain of PHP15 billion, with more closings to follow.
Globe is also in "advanced discussion" with one other tower company for the potential sale and leaseback of about 1,350 telecommunications towers and related passive telecom infrastructure.
"Globe expects to sign the sale and leaseback agreement with this tower company within the third quarter, with first closing happening within the fourth quarter of the year," it said.
It noted that discussions with the third tower company are still ongoing and "there is no certainty it will lead to a definitive transaction."
Once completed, the sale of these towers is seen to be the "largest ever tower sale and leaseback deal" in the country.
"Globe expects to raise a significant amount of capital over the next few quarters from executing this transaction," it said.
Of the proceeds, it said about 75 percent would be used to fund capital expenditures to support ongoing network expansion and sustain its network performance.
"The balance of 25 percent will be earmarked to cover our 2023 debt servicing requirements. This will significantly improve the overall health of Globe's balance sheet and provide sufficient flexibility to properly compete in this dynamic market, as well as further expand its digital ecosystem," it said.
In June 2020, the Department of Information and Communications Technology, the Anti-Red Tape Authority, and other government agencies signed a joint memorandum agreement to establish the common tower policy, allowing multiple telecom companies to share a single tower and lease their existing towers.
Through tower sharing, telcos are expected to save money by sharing the operational expenses of a single tower.
It also boosted the presence of independent tower companies or third-party companies that lease their towers to telcos. (PNA)