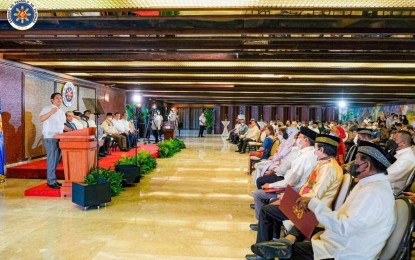 MANILA – The Office of the President (OP) has undertaken a "stringent" process in selecting the 80 new members of the Bangsamoro Transition Authority (BTA).
The assurance came after President Ferdinand "Bongbong" Marcos Jr. led the mass oath-taking of the new BTA members at Malacañan Palace's Heroes Hall on Friday.
The OP ensured that the identification of BTA appointees underwent a "careful and objective" selection process based on the criteria which include service record, qualification, and performance; contributions to the Bangsamoro peace process; geographical or sectoral representation; and acceptability or credibility to other stakeholders.
The BTA, an interim government of the Bangsamoro Autonomous Region in Muslim Mindanao (BARMM), is given both executive and legislative powers.
The BTA is composed of lawyers, lawyer-certified public accountants, engineers, academe, educators, health professionals, media practitioners, political officers, business people, representatives from the religious community and civil society organizations, former elected local government officials, and government administrators.
The members come from the provinces of Maguindanao, Lanao del Sur, Lanao del Norte, Sulu, Basilan, Tawi-Tawi, as well as the Bangsamoro communities of North Cotabato, Non-Moro Indigenous Peoples, the Kalagan or Kagan communities from Davao Oriental, and the Christian or settler communities from the cities of Davao and Cotabato to ensure equal representation.
The BTA composed of 80 members shall be appointed by the President -- 41 from the Moro Islamic Liberation Front and 39 from the Philippine government, according to Republic Act 11054 or the Bangsamoro Organic Law (BOL).
Marcos, in his speech during the oath-taking ceremony, expressed full support to the BTA, as he acknowledged the "great deal of work" that the body needs to accomplish in three years.
The BTA needs to work double time to craft "basic and fundamental and highly important pieces of legislation" since there will no longer be extensions in 2025, he said.
"Such important laws to be passed in three years is not an easy task, and that's why I will be here as head of the national government to support BARMM in any way," Marcos said.
The BTA has yet to pass priority measures such as the Bangsamoro Local Government Code, Electoral Code, Revenue Code, and Indigenous People's Code, according to a press statement released by the Office of the Presidential Adviser on Peace, Reconciliation and Unity.
In 2021, former President Rodrigo Duterte signed a law moving the date of the first regular BARMM parliamentary and regional elections to May 2025. (PNA)