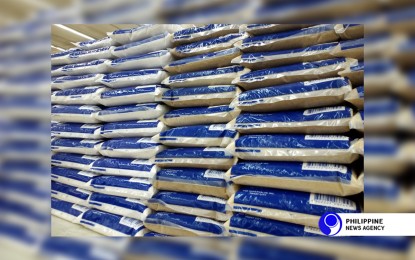 MANILA – Malacañang on Saturday defended Executive Secretary Victor Rodriguez over his directive to create an importation plan.
In an interview with state-run Radyo Pilipinas, Press Secretary Trixie Cruz-Angeles reiterated that Rodriguez has nothing to do with the unauthorized order to import 300,000 metric tons (MT) of sugar.
Cruz-Angeles said the importation plan is different from the resolution issued without the approval of President Ferdinand Marcos Jr.
"Importation plan gives us information. Hindi iyan order (That's not an order)," she said. "Until makita mo 'yung (you see the) importation plan, there is no order to import. At kailangang pag-aralan (You have to study first). Ito 'yung sinasabi natin na ang Presidente (This is what we are saying that the President), he wants to do things systematically."
She made the clarification following the resignation of Undersecretary Leocadio Sebastian from the Department of Agriculture (DA) on Thursday due to his unauthorized signing of a sugar importation order.
In a letter made public Friday night, Sebastian took responsibility for convening the Sugar Regulatory Board and approving Sugar Order 4 which allows the importation of 300,000 metric tons of sugar.
Cruz-Angeles said there was a "misunderstanding" of Rodriguez's order for the creation of an importation plan.
She also noted that Marcos had authorized Rodriguez to order the crafting of an importation plan.
It was Rodriguez who informed Marcos about the unauthorized issuance of the resolution, Cruz-Angeles added.
"That's a misunderstanding of the plan. After the plan, that is the only time na magkakaroon po ng (when you are allowed to issue a) resolution. Kaya naging mahalaga 'yung (That's why it is important to know) whether or not there is an importation plan," she said.
The unauthorized signing of the order on behalf of Marcos is still under investigation, Cruz-Angeles said.
"The President is objective. He's leaving the investigation to be conducted without his interference. Kailangan ([The investigation] has to be fair," she said.
Malacañang repeatedly said the issuance of the resolution was "illegal" since the proposal to import sugar was rejected by Marcos.
Sugar planters' groups lauded Marcos' move to disapprove the proposed importation.
On Friday, the Asociacion de Agricultores de La Carlota y Pontevedra Inc. and the La Carlota Mill District Multi-Purpose Cooperative said it is ill-advised to import additional sugar as the milling season is about to start and will augment the current supply.
The United Sugar Producers Federation, the largest sugar federation in the country, also hoped that there would be a reorganization of the DA and the Sugar Regulatory Administration following the incident. (PNA)