MANILA – President Ferdinand "Bongbong" Marcos Jr. on Monday extolled Davao City as among the country's "shining beacons of progress", giving credit to its people for uniting against hardships the country has faced as a nation.
In his message on the celebration of the Kadayawan Festival, Marcos said the occasion is a reminder of how festive gatherings bring Filipinos "closer together" to celebrate a shared culture and rootedness.
He described the Kadayawan Festival as a commemoration of Davao City's "abundance" an opportunity to show "the best of what their hometown has to offer."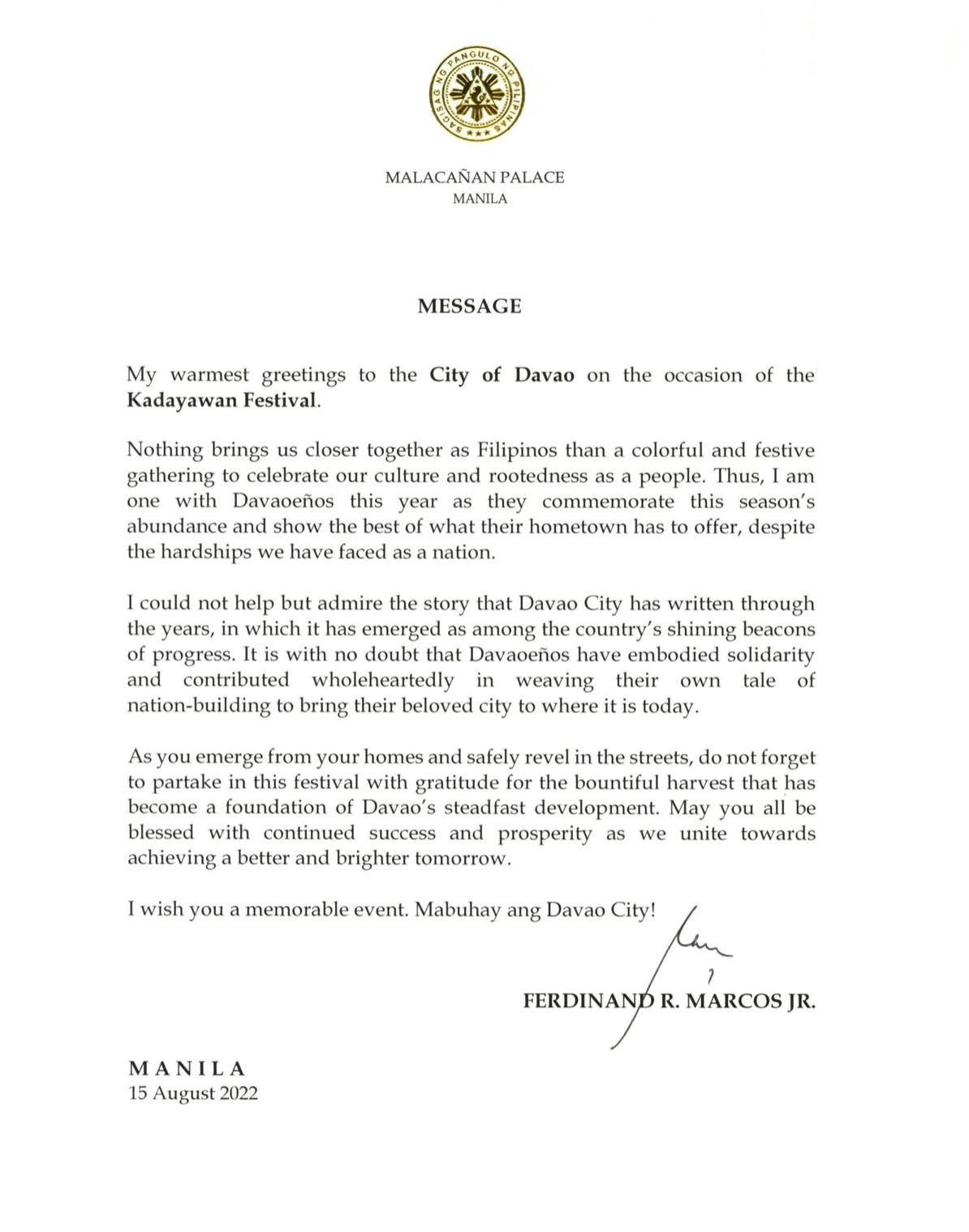 "l could not help but admire the story that Davao City has written through the years, in which it has emerged as among the country's shining beacons of progress. It is with no doubt that Davaoeños have embodied solidarity and contributed wholeheartedly in weaving their own tale of nation-building to bring their beloved city to where it is today," he said.
Marcos also enjoined Davaoeños to partake in the festival with gratitude for the bountiful harvest that has become a foundation of Davao's "steadfast development."
"May you all be blessed with continued success and prosperity as we unite towards achieving a better and brighter tomorrow," he added.
The Kadayawan Festival, celebrated on the third week of August, is a thanksgiving festival and a tribute to Davao's indigenous peoples.
Kadayawan is a native expression in the Dabawnon tongue, which means "anything excellent that brings great fortune" from "dayaw" (good), describing a thing that is valuable and superior.
With the theme -- "Kasikas sa Kadayawan," the Festival activities will showcase "Bantawan" -- a cultural show by Davao City's 11 tribes.
It will also feature the Dula Kadayawan or tribal games, Hiyas sa Kadayawan, Indak Indak sa Kadayawan, Pamulak sa Kadayawan, among others. (PNA)