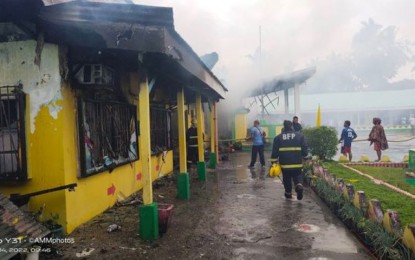 TACLOBAN CITY – The Department of Education (DepEd) has assured assistance to a school in Hindang, Leyte which was razed by a fire one week before the opening of classes.
A team from DepEd Leyte division office was sent to Hindang town to assess the extent of damage caused by the fire around 8:30 a.m. on Sunday inside the campus of Hindang National High School, said DepEd Leyte division office information officer Karen Barril.
"We are saddened by this incident especially that we have been preparing for the opening of new school year. Our team is there to check the school and see what interventions are needed to ensure that opening of classes will go on next week," Barril said in a phone interview.
Aldrin Mones Montaña, a teacher at the school, said in a phone interview that among the facilities gutted by the two-hour fire were the school library, computer laboratory, information and communications technology coordinator office, physical facilities coordinator office, and science laboratory.
Other fire-hit facilities were the guidance counselor office, canteen, disaster and risk reduction management office, technology and livelihood education classroom, school-based management coordinator office, and parents and teachers association office.
"I was upset and heartbroken especially that the opening of classes is already near. It's really disappointing that our preparation had gone into waste," Montaña told the Philippine News Agency.
The school, the biggest secondary school in Hindang town, has 838 students enrolled in junior high school. Authorities have yet to release the cost of damage in the incident. (PNA)