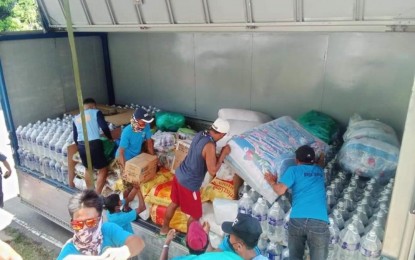 BAGUIO CITY – The organization of companies operating within the Clark Freeport Zone is looking at possible recovery aid for the victims of the major earthquake in Abra last month.
Cristopher Magdangal, president of the Board of Directors of the Clark Investors and Locators Association, Inc. (CILA), in a statement on Monday said "we are reporting our findings and the result of the relief activity last week in Abra to the Board and we will see how we can still help in the recovery effort."
Magdangal said their assistance will not end in their recent delivery of relief items.
He added that as Filipino entities, it is also their responsibility to help those in dire need whether inside or outside the Clark Freeport Zone.
"The Board of Directors are one with our brothers and sisters in Abra in their effort to bring their lives back to normal. That is the reason why we encouraged our members to donate voluntarily. All donations were accounted for, that is why we have something to share with our kababayans (countrymen) in Abra," Magdangal said.
On Aug. 12, CILA representatives led a group of 15 persons who traveled for the turnover and distribution of relief packs to all the 515 households in Barangay Labaan in San Quintin town, Abra.
Each household received a pack that contained rice, assorted canned meat and fish, noodles, seven liters of mineral water, and a grooming kit containing face towels, soap, toothpaste, and toothbrush.
Aside from the family food packs, at least 200 senior citizens also received a blanket and a pillow while 300 children received clothes. Some used clothing was also handed to the barangay for distribution to those in need.
"Trapal" or "tolda" (canvas) was also turned over to the barangay for distribution to the families who need the materials that would protect them from the heat of the sun or from rain.
Likewise, additional sacks of rice were distributed to several residents in Bangued town after CILA received a separate request through the Abra-Aguila fraternity that has also been extending assistance to the quake victims.
Magdangal said the donations in cash and in-kind are from members of CILA which they pooled and distributed to the households in coordination with the barangay and the help of the police.
CILA is a non-profit organization with 235 members that supports and represents its locator-members in policy formulation to make Clark Freeport Zone investor-friendly.
CILA members represent more than 90 percent of the composite amount of investments, exports, and employment within Clark Freeport Zone which is managed by Clark Development Authority, a subsidiary of the Bases Conversion Development Authority. (PNA)