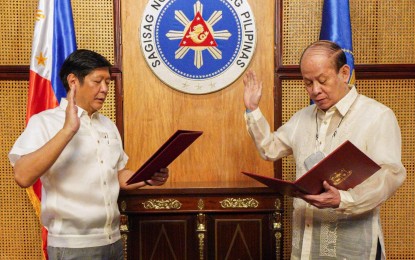 MANILA – President Ferdinand "Bongbong" Marcos Jr. has administered the oath of office of Domingo Panganiban as Undersecretary of the Department of Agriculture (DA).
Panganiban formally took his oath of office as shown in photos shared in the President's official Facebook page on Monday.
"We congratulate Mr. Domingo F. Panganiban who was sworn in as Undersecretary of the Department of Agriculture on August 12, 2022," Marcos said in his post on Facebook. "It is an honor to work with our experts in meeting the needs of our people, especially in the agricultural sector."
Panganiban was former Secretary of the DA in 2001 under President Joseph Estrada and in 2005 under President Gloria-Macapagal Arroyo.
Arroyo tapped Panganiban to lead the Philippine National Anti-Poverty Commission with cabinet rank in November 2006.
Panganiban began his career in public service as a Plant Pest Control Worker in the Bureau of Plant Industry (BPI) assigned in Zamboanga City.
He was later appointed DA Regional Director for Region 3 (Central Luzon).
Panganiban also became Director of the Bureau of Plant Industry and consequently Executive Director of the National Food and Agriculture Council (NFAC).
He served as Deputy Minister of the Philippine Ministry of Food and Agriculture in 1984.
He earned his Bachelor of Science in Agriculture degree at the University of the Philippines at Los Baños in 1961. (PNA)