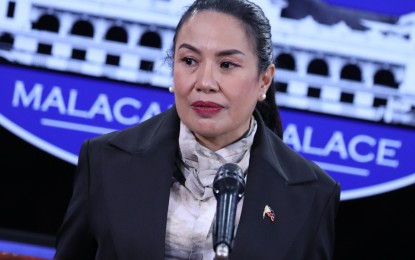 MANILA – The administration of President Ferdinand "Bongbong" Marcos Jr. is working towards giving more women a voice in matters of policy and development, a Palace official said Tuesday.
Press Secretary Trixie Cruz-Angeles made this remark following the recent oath-taking of the new members of the Bangsamoro Transition Authority (BTA), the interim government of the Bangsamoro Autonomous Region in Muslim Mindanao (BARMM).
Of the 80 new members of the BTA, Cruz-Angeles said 16 are women.
"Ang balanseng representasyon ng kasarian sa pamahalaan ay mahalaga sa pagbuo ng mapayapang lipunan (A balanced representation of gender in the government is important to the development of a peaceful society)," she said in her official Twitter account.
"...Sa ilalim ng kasalukuyang administrasyon, patuloy ang pagbibigay ng oportunidad sa mga kababaihan na makilahok sa usapin ng polisiya at kaunlaran (Under the current administration, women will continue to be given the opportunity to participate in matters of policy and development)," she added.
The ratification of Republic Act (RA) 11054 or the Bangsamoro Organic Law (BOL) through a plebiscite held in 2019 paved the way for the creation of BARMM and the establishment of the BTA.
Composed of 80 members appointed by the President, the BTA is a governing body tasked to pass crucial legislation to operationalize the BOL and exercise legislative and executive powers during the region's transition period.
Under the BOL, the Moro Islamic Liberation Front (MILF) shall lead the BTA, sans prejudice to the participation of the Moro National Liberation Front (MNLF).
The BTA's 41 members are nominated by the MILF, while the remaining 39 members are endorsed by the Philippine government.
The list of BTA members was uploaded on the official Facebook page of the Bangsamoro government. It contains the names of 80 appointees, including Ahod Ebrahim who was tapped as BTA interim chief minister:
1. Ahod Balawag Ebrahim
2. Akmad Indigay Abas
3. Haron Muhammad Abas
4. Basit Sarip Abbas
5. Mudjib Compania Abu
6. Laisa Masuhud Alamia
7. Mosber Entol Alauddin
8. Ibrahim Dumaraag Ali
9. Lanang Tapodoc Ali Jr.
10. Eddie Mapag Alih
11. Suharto Mastura Ambolodto
12. Abdulaziz Mangandaki Amenodin
13. Baintan Adil Ampatuan
14. Susana Salvador Anayatin
15. Mohammad Kelie Ugalingan Antao
16. Mary Ann Madroño Arnado
17. Dan Sala Asnawie
18. Ali Montaha Datu Haron Babao
19. Pangalian Macaorao Balindong
20. Anna Tarhata Sumande Basman
21. Bai Maleiha Bajunaid Candao
22. Hashemi Nur Dilangalen
23. Sha Elijah Biruar Dumama-Alba
24. Suharto Sandayan Esmael
25. Matarul Matarul Estino
26. Abdullah Ebus Gayak
27. Eduard Uy Guerra
28. Khalid Ma-amor Hadji Abdullah
29. Abdullah Biston Hashim
30. Hatimil Esmail Hassan
31. Rasul Enderez Ismael
32. Mohagher Mohammad Iqbal
33. Raissa Herradura Jajurie
34. Muslimin Asalim Jakilan
35. Albakil Dasani Jikiri
36. Denmartin Abdukahil Kahalan
37. Faisal Guiabar Karon
38. John Antony Lacbao Lim
39. Benjamin Tupay Loong
40. Don Mustapha Arbison Loong
41. Jose Iribani Lorena
42. Abdulraof Abdul Macacua
43. Abdullah Goldiano Macapaar
44. Marjanie Salic Macasalong
45. Amroussi Ampuan Macatanong
46. Tarhata Matalam Maglangit
47. Hamid Uddin Malik
48. Baileng Simpal Mantawil
49. Ishak Veloso Mastura
50. Jaafar Apollo Mikhail Lintongan Matalam
51. Amilbahar Saddalani Mawallil
52. Froilyn Tenorio Mendoza
53. Michael Enit Midtimbang
54. Tawakal Buga Midtimbang
55. Abdulkarim Tan Misuari
56. Nurredha Ibrahim Misuari
57. Rasol Yap Mitmug Jr.
58. Hussein Palma Muñoz
59. Abdulwahab Mohammad Pak
60. Randolph Climaco Parcasio
61. Ramon Alejandro Piang Sr.
62. Suwaib Latip Oranon
63. Ubaida Casad Pacasem
64. Nabila Margarita Pacasum Pangandaman
65. Diamla Disimban Ramos
66. Said Zamahsari Salendab
67. Ali Omar Salik
68. Ali Balayman Sangki
69. Omar Yasser Crisostomo Sema
70. Romeo Kabuntalan Sema
71. Said Manggis Shiek
72. Aida Macalimpas Silongan
73. Ali Bangcola Solaiman
74. Kadil Monera Sinolinding Jr.
75. Paisalin Pangandaman Tago
76. Nabil Alfad Tan
77. Adzfar Hailid Usman
78. Bassir Dimaukom Utto
79. Sittie Fahanie Sindatok Uy-Oyod
80. Mohammad Shuaib Yacob (PNA)