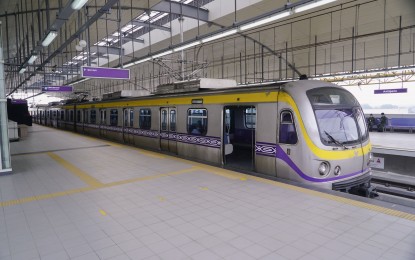 MANILA – Around 2.2 million free rides are expected to be enjoyed by students during the two-and-a-half-month period of the "Libreng Sakay (free rides)" program at the Light Rail Transit Line 2 (LRT-2).
In a media bulletin on Tuesday, Light Rail Transit Authority (LRTA) Administrator Hernando Cabrera said the program, set to begin during the official first day of classes on Aug. 22 and will end on Nov. 5, is expected to serve a lot of students as the LRT-2 line is situated along 80 universities, colleges, and schools.
On a typical weekday before the start of the pandemic, the LRT-2 served an average of 90,000 to 100,000 passengers per day.
"We have prepared a system to ensure the safe, smooth, and efficient implementation of the program in compliance with the directive of the Department of Transportation (DOTr)," Cabrera said.
The free ride program can be availed by students enrolled in nursery, kindergarten, elementary or primary school, high school, technical, vocational, and other colleges from Mondays to Saturdays, excluding holidays, from 5 a.m. to 9:30 p.m.
Students taking graduate studies are not covered by the program.
To avail of the free ride, students must present their school ID or registration form at a Passenger Assistance Office (PAO) in any LRT-2 station to receive a free single-journey ticket.
"All students who will avail of the free ride shall be subjected to the usual security inspection procedure and health and safety protocols at the stations and trains," he said.
The free ride period will end around the time face-to-face classes will be fully implemented and students may instead avail of a 20 percent discount.
The 'Libreng Sakay' program in different modes of public land transport is the directive of President Ferdinand "Bongbong" Marcos Jr. and DOTr Secretary Jaime Bautista to ease the burden on the public amidst the rising cost of fuel and other goods and the continuing challenges brought by the Covid-19 pandemic.
The Department of Education said the school year 2022-2023 will begin on Aug. 22 and will slowly transition into five-day in-person classes by Nov. 2. (PNA)