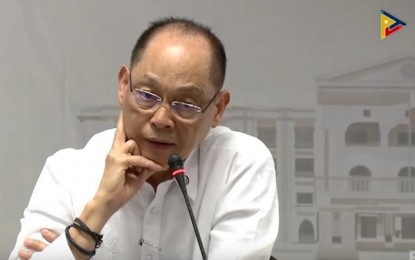 MANILA – Department of Finance (DOF) Secretary Benjamin Diokno dismissed on Tuesday speculations that the country is on the brink of a debt crisis.
Diokno assured the Committee on Ways and Means that the Philippines is far from a financial crisis.
"There has been a lot of speculation regarding our debt, with the cases of Sri Lanka and some of these downgrades, maybe some reassurance from our finance officials, economic managers that we will not go that way, and that the debt is still at a manageable level?" Senator Sonny Angara asked Diokno.
The DOF chief said the country has always been careful in its borrowings, citing the tax reform laws passed by Congress as "critical" in keeping the economy afloat amid the Covid-19 pandemic.
"I can assure you that we will not go Sri Lanka's way. We're very careful with our borrowings. In fact, the treasurer said I think most of our debts are long-term," Diokno said, giving credit to his predecessor, Carlos Dominguez, whom he said made sure that the country borrows with the lowest possible interest rates.
"I think we should be able to service whatever we borrowed down the road. So, I can assure you that in fact, that is the purpose of the medium-term fiscal framework -- to make sure that we don't go the Sri Lanka way," he added.
A DOF report in May, or a month before the end of the Duterte administration, showed the Tax Reform for Acceleration and Inclusion (TRAIN) Act, tax amnesty programs, and "sin" tax laws raised some P68.4 billion in revenues in 2018; PHP134.7 billion in 2019; PHP144 billion in 2020; and PHP228.6 billion in 2021.
TRAIN, signed in December 2017, provides hefty income tax cuts for majority of Filipino taxpayers while raising additional funds to help support the government's accelerated spending on its "Build, Build, Build" infrastructure and social services programs.
"This tax reform package corrects a longstanding inequity of the tax system by reducing personal income taxes for 99 percent of taxpayers, thereby giving them the much needed relief after 20 years of non-adjustment of the tax rates and brackets" the DOF said.
Recently, the Sri Lankan government announced that it was defaulting on its debts, making it the first sovereign nation to default since the pandemic started.
It had also depleted its cash reserves resulting in a shortage of food, fuel, medicines, and electric power, which led to the resignation of President Gotabaya Rajapaksa, who was forced to flee the country due to massive protests.
To help conserve supplies, schools have closed and people have been asked to work from home. (PNA)