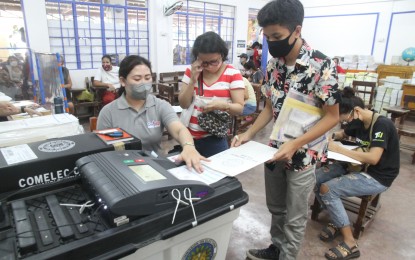 MANILA – Commission on Elections (Comelec) chairperson George Erwin Garcia on Tuesday appealed to lawmakers to provide more funds for the honoraria of poll workers, most of whom are teachers.
Garcia made the appeal to the members of the House Committee on Suffrage and Electoral Reforms after the bill exempting the honoraria from taxes for election workers has been vetoed by President Ferdinand Marcos Jr.
He said lawmakers can help compensate the efforts of those who work during elections by setting aside additional funds in the national budget to increase election-related remuneration.
"We at the Commission on Elections are appealing to you, our honorable members of Congress, I hope you will be able to grant an additional increase in their honoraria because their tax exemption was removed," Garcia said in a statement.
The poll body chief together with other officials of the Commission attended the organizational meeting of the committee on Tuesday, which was headed by Mountain Province Lone District Representative Maximo Dalog Jr.
Lawmakers present at the meeting were apparently amenable to Garcia's suggestion.
President Ferdinand Marcos Jr. earlier vetoed the bill seeking to exclude honoraria of poll workers from tax deduction, saying it is contrary to the government's comprehensive tax reform program.
The honoraria and allowances of those who served in the May 2022 polls were subjected to a 20 percent withholding tax. (PNA)