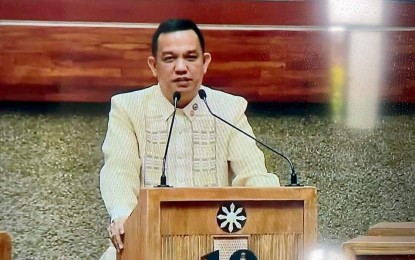 LEGAZPI CITY – A lawmaker in Albay has filed a bill seeking the establishment of the centralized Barangay Management Information System (BaMIS).
In an interview on Tuesday, Albay 3rd District Representative Fernando Cabredo said House Bill 150 filed last July was already referred to the Committee on Information and Communications Technology and secondarily to the Committee on Local Government.
"The bill aims for the establishment of a centralized system which will serve as a repository of information of every barangay such as its residents, households, families, areas, businesses, transactions, budget and expenses, cases and morals or blotters, activities, and projects, centers like evacuation centers and health centers, donors and volunteers, scholarships, among others," Cabredo said.
Cabredo believes that BaMIS will be very helpful in analysis and decision-making at the barangay level as barangay leaders will be able to forecast and assess the needs of their constituents based on the collated information.
"The transactions in the barangay are uniform, it will be a centralized application. One of the advantages of this bill is during a disaster, at the tip of the finger, they can assess the numbers of individuals needing certain help from the government. This is ready information," he said.
The solon said the proposed establishment of a Barangay Management Information System will be using cloud technology in storing all information and resources gathered by the barangay, instead of using computer hard drives.
"In terms of accessing information, the authorized user, in this case, the barangay officials, can retrieve data or files from the cloud system through the use of the internet," he said.
He said when it comes to digitizing methods of data collection, the common drawback would be data privacy and security.
"Certain level of security will be put and information technology (ITs) experts will help to determine the safety and security of the information. Some various technologies and practices protect data stored in the Cloud. Cloud service providers offer cloud data security that deals with safekeeping data that is remote from the data center or computer. One of the efficient ways of protecting sensitive information in the cloud is by adopting real end-to-end data encryption to mitigate risks or breaches," he added.
Cabredo said the process of integrating the system will be needing thorough planning and mapping of data flows to ensure that the design and security of the system would efficiently work.
"The retrieval of comprehensive data will be quicker, timely, and accurate. In terms of accessibility, the barangay can easily access the cloud database system through the use of the internet," he said.
Cabredo, who worked as a software developer in foreign companies in the past years, strongly recommends going digital and adopting the latest trends in technology, saying it shall significantly help in public service and good governance. (PNA)