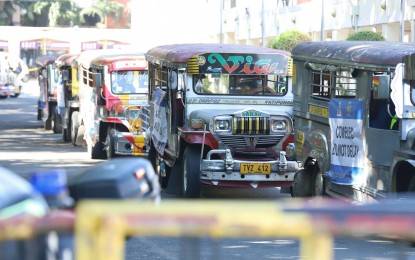 MANILA – The Supreme Court asked five Metro Manila cities and government regulators to respond to a suit filed by transport groups seeking a stop to the no-contact apprehension program (NCAP) for traffic violators.
SC spokesperson Brian Keith Hosaka told reporters in a text message on Tuesday that transport groups Kilusan sa Pagbabago ng Industriya ng Transportasyon Inc., Pasang Masda, Alliance of Transport Operators and Drivers Association of the Philippines, and Alliance of Concerned Transport Organizations filed a petition for certiorari with application for a temporary restraining order before the High Court on August 3.
Named in the suit were Manila, Quezon City, Valenzuela, Parañaque City, Muntinlupa City, and the Land Transportation Office.
"The Court has required the respondents to file their respective comments to the said petition and application for TRO within a non-extendible period of 10 days from receipt of the written notice from the Court," Hosaka said.
In the 47-page petition, the groups said the system which uses close-circuit television cameras places motorists "under constant threat of being arbitrarily apprehended remotely and issued notices of violation for alleged traffic offenses committed without any contact whatsoever."
In Quezon City which fully implemented NCAP on July 1, state-of-the-art cameras with artificial intelligence technology will capture, photograph and record the conduction stickers and plate numbers of vehicles that violates traffic rules and regulations 24/7 along select major roads.
The City of Manila said NCAP will decrease obstructions and choking of traffic from apprehended vehicles while "a more conscientious environment for pedestrians will not only keep our family and loved ones safe but could positively affect the tourism industry."
The policy has helped the city effectively combat the safety risks related to traffic congestion, reckless driving, and hazardous motorist habits, according to the Valenzuela NCAP website.
"The high-tech solution propels Valenzuela City into the future as a pioneer and leader. The NCAP continues its mission to promote road safety, motorist accountability and public discipline," it added.
For Parañaque, NCAP is a form of discipline and the answer to major traffic congestions that create safety risks.
In a statement on Twitter on Tuesday, Muntinlupa Mayor Ruffy Biazon said the city has yet to implement NCAP despite a contract entered into by the previous administration.
"I have not given any statement on whether we will implement it or not," Biazon tweeted. (PNA)