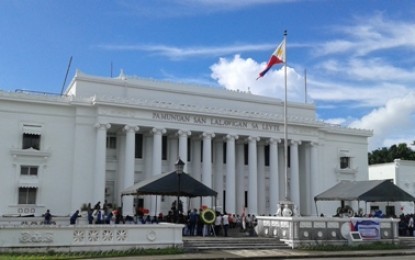 TACLOBAN CITY – The Leyte provincial government will pursue its plan to convert the historic old capitol building in this city into a museum.
Leyte Governor Carlos Jericho Petilla said on Wednesday an assessment is ongoing to come up with the required budget to put up the museum.
"The old capitol building has a history, and we want to maintain it. We have many artifacts in Eastern Visayas that are not preserved and without sense of history. We will gather those. The target is to start the project this year," Petilla told reporters.
Aside from the capitol building, the local government will also convert the old legislative building into an events place.
The project is part of a major facelift after the capitol sustained cracks due to the magnitude 6.5 earthquake in 2019.
The provincial capitol was the seat of the Commonwealth Government of the Philippines (Oct. 23, 1944 to Feb. 27, 1945) when President Sergio Osmeña came into power in 1944 with the World War II Liberation Forces.
He was sworn into office by General Douglas MacArthur inside the building in the "presence of Cabinet men, liberation forces and many other grateful people."
Construction of the neoclassical building of Leyte Provincial Capitol started in 1917. It was renovated and expanded in 1964.
Early this year, the provincial government completed the new Leyte provincial capitol building complex located within a 14-hectare property in nearby Palo town. (PNA)