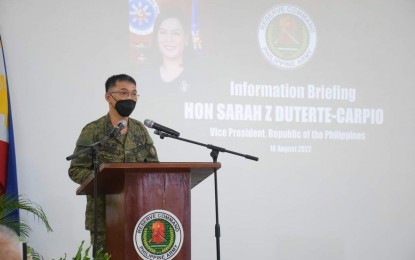 MANILA – Vice President and Education Secretary Sara Z. Duterte has cited the role of reservists in nation-building through their "dedication to public service".
Duterte made this remark in her speech read by Government Service Insurance System (GSIS) board member and retired Armed Forces of the Philippines vice chief-of-staff Alan Luga in a forum that gathered Mindanao-based ready reserve unit commanders and reservist elected government officials at the Reserve Command, Philippine Army headquarters at Camp Riego De Dios in Tanza, Cavite province last Aug. 16.
"Reservists provide powerful support to national security efforts. With over 791,000 members -- reservists are a formidable force," Duterte, who has a rank of colonel in the Army's reserve force, said in her remarks read by Luga.
The country's second highest official also expressed confidence that the Army's reserve force will continue to support the government's goal of instilling the values of discipline, leadership, teamwork, and patriotism among the Filipino youth.
"I salute all the men and women of the Reserve Command, Philippine Army for your dedication to public service, and your undying love of country and fellowmen," Duterte said.
Meanwhile, RCPA commander Maj. Gen. Fernando V. Felipe laid out key recommendations for the development of the Army's reserve force in line with the guidance of PA chief Lt. Gen. Romeo S. Brawner Jr.
In the forum, Felipe also tackled the Reserve Force Capability Development Plan which requires cooperation and synergy of internal and external stakeholders.
The RCPA commander said the plan entails the revival of the Special Basic Citizen Military Training that will be funded by local government units; allocation of one-month salary for one Ready Reserve Infantry Battalion per region; increased allocation of funds for ready reserve units and Reserve Officer Training Corps units for equipment and capability-building; and allocation of separate funding for the Citizen Armed Force Development. (PNA)